ADDIS ABABA FOOD NOT BOMBS IN ETHIOPIA


Addis Ababa started sharing a regular meal in May 2012. The first meal was shared with over 100 people the Piassa area outside St. George's Ethiopian Orthodox Cathedral on May 15th. The group agreed to share every Saturday at 5:00 pm.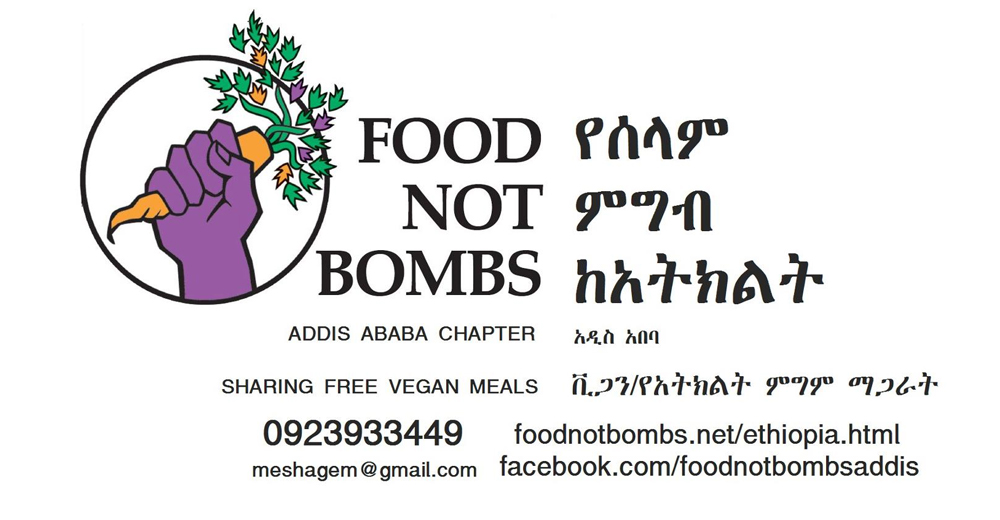 Please share our announcement with your friends and family. Consider volunteering with Food Not Bombs Addis.



The Ethiopian Vegan Association started Food Not Bombs Addis Ababa during its founding conference. Keith McHenry spoke at the conference to encourage local volunteers to share vegan meals with the hungry.



THE FOUNDING OF FOOD NOT BOMBS IN ETHIOPIA


| | | |
| --- | --- | --- |
| Preparing the meal for May 15, 2012 | Cooking vegan food | Proud of our fresh kosta. |


The number of hungry is increasing in Ethiopia while corporate farms ship tons of fresh produce and grains to wealthy Middle Eastern and European countries. Much of the best land and water is used to grow flowers to send north.


| | | |
| --- | --- | --- |
| Sharing with the blind | Almost ready | The proud cooks of Food Not Bombs Addis |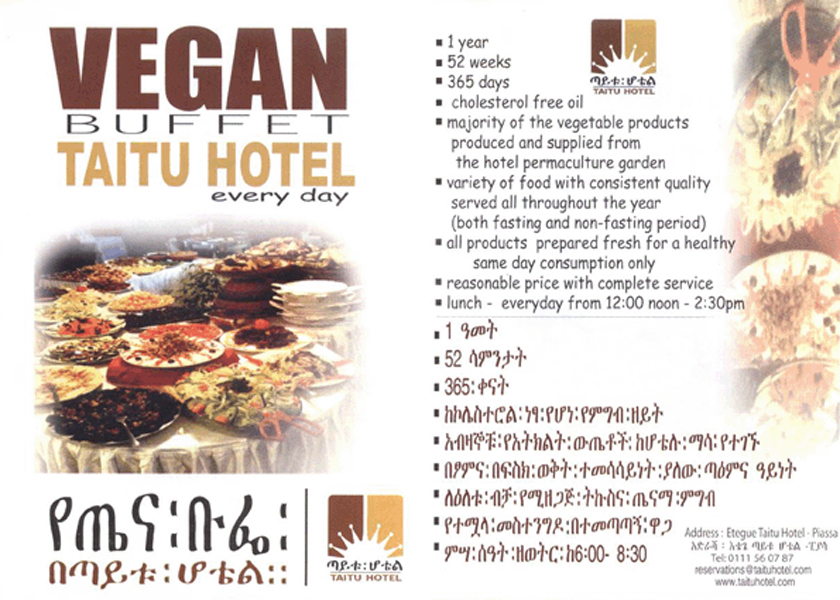 Food Not Bombs Addis Ababa thanks the Taitu Hotel for their generous donations.

COST TO PROVIDE 100 MEALS IN ADDIS ABABA


These are the prices we paid for the May 15, 2012 meal per 100 people. The total cost was $50 U.S. dollars per 100 meals or 883 Ethiopian birr per 100 meals.
Taxi - 150 Birr
Potato - 20 kg for 240 Ethiopian birr at 12 Ethiopian birr per kg
Tomato - 2 kg for 32 Ethiopian birr at 16 Ethiopian birr per kg
Onion - 2 kg for 28 Ethiopian birr at 14 Ethiopian birr per kg
Cabbage - 6 kg for 36 Ethiopian birr at 6 Ethiopian birr per kg
Kosta - 2 kg for 16 Ethiopian birr at 8 Ethiopian birr per kg
Carrots - 4 kg at 36 Ethiopian birr at 9 Ethiopian birr per kg
Garlic - 1/2 kg for 25 Ethiopian birr at 50 Ethiopian birr kg
Ijera Ethiopian Bread - 100 for 300 Ethiopian birr at 3 Ethiopian birr for each one
Plastic bags - 100 for 20 Ethiopian birr
Oil, salt, charcoal and spices donated


Companies from China, India, the Netherlands Germany, Belgium, and Saudi Arabia have been buying the best farm land in Ethiopia. Much of the produce and live stock is shipped out of the country for profit while local farm workers on these commercial plots are paid about 50 cents a day. During the G8 meeting in May 2012 the Obama administration announced that he had secured food aid from companies like Monsanto. This aid is likely to increase hunger in Ethiopia as the donation contaminates local seeds and impacts the price of food produced by local farmers. Total exports from Ethiopia were $2.231 billion in 2009. The items exported include coffee, gold, qat, leather products, live animals, oilseeds. These exports in 2010 went to China (13.9%), Germany (10.5%), Belgium (7.5%), Saudi Arabia (7.1%), U.S. (6.8%), and Sudan (4.6%). These policies are increasing hunger across Africa. We are encouraging an increase in organic farming by local people and a move away from industrial agriculture for export. Our volunteers are helping cultivate local organic gardens to support this process. At the same time the United States is spending millions to build a drone base in Arba Minch, Ethiopia, money that could be used to support access to water, organic seeds and tools to grow food for the people of Africa.



Don't Put Monsanto in Charge of Ending Hunger in Africa by Yifat Susskind

ETHIOPIA: WE EXPORT FOOD TO IMPORT FOOD

U.S. drone base in Ethi­o­pia is operational

PLEASE DOANTE TO SUPPORT OUR WORK IN ETHIOPIA

You are invited to join Food Not Bombs in our work to make Africa's future bright.




---

Addis Food Not Bombs - Ethiopia
Ethiopia Vegan Association
P.O. Box 28305
Addis Ababa, Ethiopia
0923933449
meshagem (at) gmail.com
www.facebook.com/ FoodNotBombsAddis
| THE GOOD ETHIOPIAN | Ethiopian Vegan Association | International Fund for Africa |
| A Well Fed World | Biodifood Association |
| Ethiopia country profile |
| Contacts in Africa |
| Start a Food Not Bombs | Main Menu | Contacts | Help Africa! Donate A Dollar For Peace |