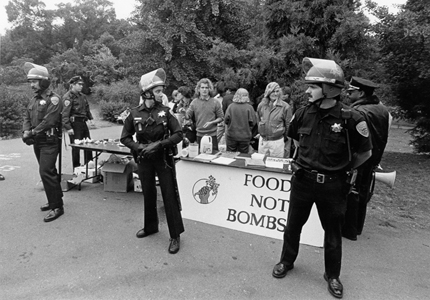 Nine arrested August 15, 1988 after requesting a permit.

FOOD IS A RIGHT NOT A PRIVILEGE
Sharing food with the hungry is an unregulated act of compassion.
Resist all laws restricting the sharing of food with the hungry.

During the past two years authorities have tried to disrupt the sharing of food with the hungry in public in nearly 60 US cities including Fort Lauderdale, Worcester, Sacramento, Olympia, Taos, Boulder, Raleigh, Portland, Philadelphia, Seattle, Saint Louis, Santa Monica, Houston, Birmingham, Los Angeles, Columbia and Chico.
"The city is choking out every avenue for the homeless to survive," Haylee Becker of the Food Not Bombs advocacy group told the South Florida Sun-Sentinel."They're all terrible ordinances, but together they're a death sentence."


---

NEWS DETAILING THE NATIONWIDE CAMPAIGN TO DRIVE PUBLIC MEALS OUT OF SIGHT
OPINION PIECES JUSTIFYING THE CAMPAIGN TO SHUT DOWN PUBLIC MEALS


FORT LAUDERDALE FLORIDA
COLUMBIA SOUTH CAROLINA
SANTA CRUZ CALIFORNIA
SEATTLE WASHINGTON
LOS ANGELES CALIFORNIA
ST LOUIS MISSOURI
BIRMINGHAM ALABAMA
SACRAMENTO CALIFORNIA
BOULDER COLORADO
OLYMPIA WASHINGTON
RALEIGH NORTH CAROLIA
TAOS NEW MEXICO
NATIONWIDE CAMPAIGN


YOU DON'T NEED PERMISSION TO END HUNGER

Worcester Food Not Bombs was thrown out of the 'hub' for sharing food on the afternoon of October 12th. They have shared at the transportation center and had never had any trouble with the authorities. MSNBC reported on November 27, 2013 that " Los Angeles City Council members Tom LaBonge and Mitch O'Farrell, both Democrats, introduced the resolution after complaints from Los Angeles residents. Arguing that meal lines should be moved indoors, the legislators said the proposal would benefit both the homeless and residential neighborhoods." Please contact Tom LaBonge and Mitch O'Farrell and ask them to end their backing of this resolution.

On Sunday, October 6th Sacramento Food Not Bombs was kicked out of the Cesar Chavez Park by the Sacramento police. Volunteers were greeted by about 15 officers when they arrived at the park when they normally do in time to start sharing the meal they created by 1:30 pm. They were told that our stuff would be confiscated and we would get a summons due to an ordinance that has yet to even be passed that would prevent any group from handing out free hot meal in the park. Volunteers organize a rally in support of the right to share food in public. Police came and filmed the event but did not stop the volunteers.

Advocates for the poor were told to stop sharing meals with the hungry in Sacramento and Santa Monica, California, Taos, New Mexico, and Olympia, Washington. Groups were confronted and threatened with arrest in Boulder, Colorado; Raleigh, North Carolina, Portland, Oregon, Seattle, Washington and other cities across the United States this summer. In all over 50 cities in the United States have passed laws banning or limiting the sharing of meals with the hungry in the past two years with enforcement on the increase this fall. Our food is vegan, organic and no one has ever reported being made ill eating with Food Not Bombs. The goal of giving the public the impression we are required to get a permit is to justify forcing us to stop. We have no paid staff, our food is a gift and unregulated by the authorities. Like all acts of compassion no permission from the government is necessary.

Just before the government shut down the U.S. Congress approved a three-year nutrition bill (H.R. 3102), with a partisan 217-210 vote, that aims to cut about $40 billion over 10 years for the Supplemental Nutrition Assistance Program (SNAP) and provide various reforms to the program. House Rules Committee Chairman Pete Sessions, R-Texas, said the bill includes "reasonable changes" to address the "growing and growing and growing" amount of SNAP recipients. "There are still jobs available in America," Sessions said."They may not be ones you want to stay in your whole life." Democratic congress people said that 4 million low-income people, including 170,000 veterans would be cut from the food stamp program because of the vote.

The government shut down will stop payments to over 9 million low-income women and children who qualify for the Special Supplemental Nutrition Program for Women, Infants, and Children also known as WIC. Feeding hungry children is not considered essential yet 350,000 furloughed civilian employees of the Pentagon will return to work on Monday.



MORE ON THE RIGHT TO SHARE FOOD IN PUBLIC.

First email from Sacramento Food Not Bombs about shut down at at Cesar Chavez Park (October 6, 2013)
First facebook post from Worcester Food Not Bombs about shut down at the hub (October 12, 2013)
---


Lets SNAP to it!
Organize a local meal to protest cuts in food stamps and restrictions on the sharing of food in public!


Food Not Bombs groups and local faith based meals are being ordered to stop providing meals in public in cities all across the United States. It is clear they want to drive hunger out of sight to reduce the pressure to use our taxes for social support. At the same time there will be huge cuts in SNAP or food stamps. Worried that the public will demaned the real national security of food, healthcare and housing military contractors have stepped up their campaign to make deeper cuts in food stamps and other social services to increase thier profits. Call for nationwide protest to block cuts, increase wages and end efforts to stop the sharing of meals in public. Food Not Bombs groups are planning to provide free meals in protest to this crisis. Please contact your local group to find out the details.



Budget Deal That Helps Billionaires, Not the Poor on Democracy Now!
Thousands across area struggle with cuts in food stamps
House Republicans Pass Deep Cuts in Food Stamps
Food Stamp Decrease Set For November :(

BOMBS NOT FOOD
Red Alert: Aerospace Industry Counts Down to Cutbacks
Contractors Lobby For Alternatives To Military Cuts




---

Food Not Bombs
P.O. Box 424, Arroyo Seco, NM 87514 USA
575-770-3377
1-800-884-1136
menu@foodnotbombs.net
www.foodnotbombs.net
| Start a Food Not Bombs | Main Menu | Food Not Bombs Contacts | Donate A Dollar For Peace |