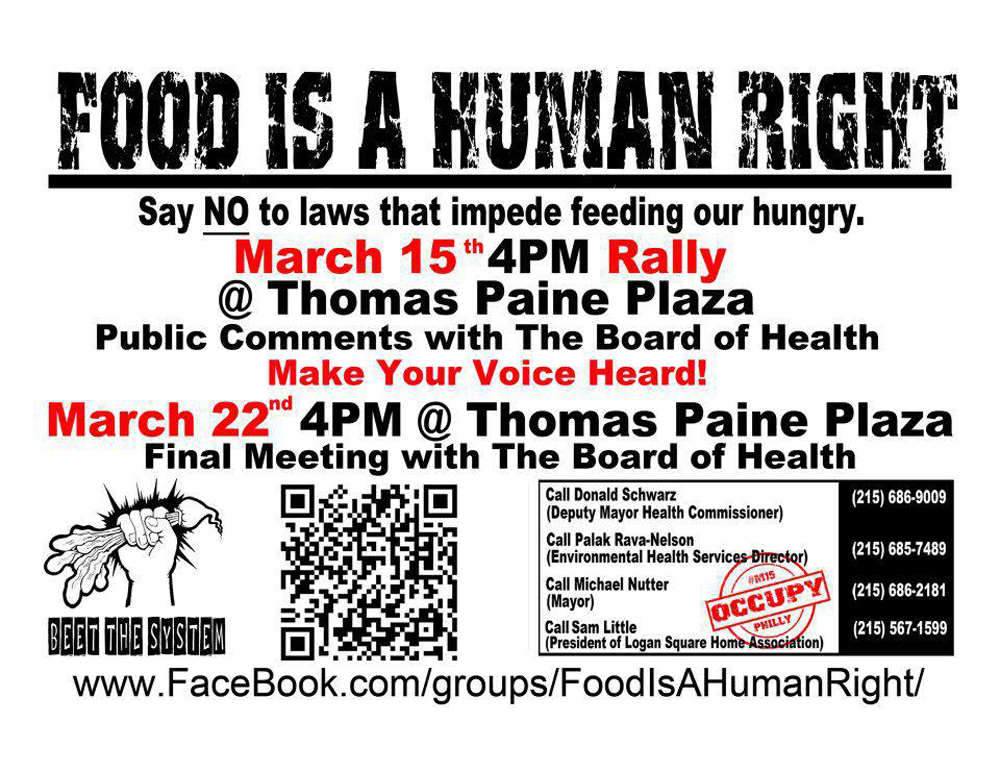 FOOD IS A RIGHT, NOT A PRIVILEGE
Sharing food with the hungry is an unregulated act of kindness. Rescind all laws restricting compassion.

"I wholeheartedly support the action on April 1, 2012 to protest laws against sharing food!"
Dr. Cornel West - author and professor Princeton University
"THERE IS NO RIGHT WAY TO GIVE OUT FOOD, THERE IS ONLY GIVING OUT ALL THE FOOD YOU CAN"
Kathy Mitro who posted a petition on line after being threatened with arrest for sharing food in Daytona Beach. Florida in January 2012

We are proposing that people all over the world consider sharing free meals in celebration our right to food and participate in our campaign for an end to laws restricting acts of compassion. Celebrate our right to feed the hungry with music, theater, and the sharing of food.

SUNDAY, APRIL 1, 2012


It has been distressing to receive so many reports in the past few weeks of people being threatened with arrest or cities adopting new laws limiting people's right to share food.

---

Food Not Bombs
P.O. Box 424, Arroyo Seco, NM 87514 USA
575-770-3377
1-800-884-1136
menu@foodnotbombs.net
www.foodnotbombs.net
| Start a Food Not Bombs | Main Menu | Food Not Bombs Contacts | Donate A Dollar For Peace |