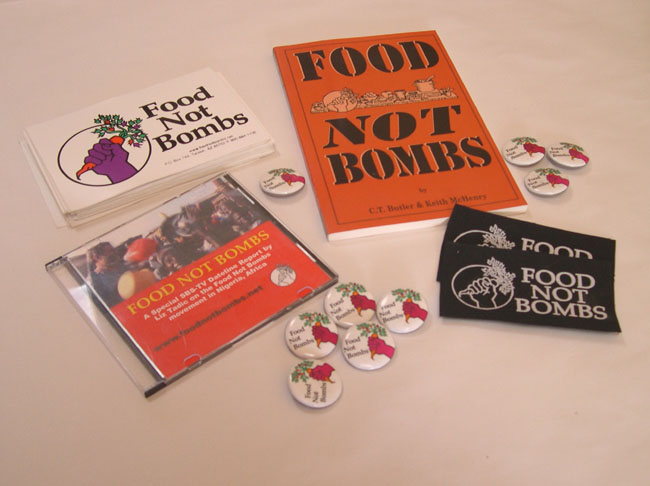 A Price List for Food Not Bombs Groups
Buttons
$1 each or 50¢ for Food Not Bombs groups
Stickers
$2 each or $1 for Food Not Bombs groups
Books
$15 each or $10 for Food Not Bombs groups
DVDs
$20 each or $12. for Food Not Bombs groups
Menus
$ 3 each or $1.50 for Food Not Bombs groups
Patches
$ 2 each or $1 for Food Not Bombs groups
T-shirts
$18 each or $10 for Food Not Bombs groups


Camp Casey Prints
$20 each or $10 for Food Not Bombs groups


Color Movement Prints
$35 each or $15 for Food Not Bombs groups



Color Movement Posters
$25 each or $10 for Food Not Bombs groups



Handmade Clay Peace Ornaments
18 each or $10 for Food Not Bombs groups


Handmade Clay Incense Holders
$18 each or $10 for Food Not Bombs groups


Food Not Bombs Presentation
$500 deposit or $250 for Food Not Bombs groups



ORDER BOOKS AND OTHER GOODIES HERE




BOOKS




Food Not Bombs, How to Feed The Hungry and Build Community


Get a copy of the 20th Anniversary edition of the FOOD NOT BOMBS handbook. This book shows you how to start a group, cook meals for 100 people and organize in your community. This book is available in English, French, Spanish and Italian.

English - Food Not Bombs, How to Feed The Hungry and Build Community
French - De la Bouffe, pas des Bombes
Spanish - Comida, no Bambas
Food Not Bombs, Italian edition

On Conflict and Consensus


Food Not Bombs co-founder C.T. Butler co wrote another helpful book called On Conflict and Consensus. Call him for free at 1-800-569-4054. He can sell his book to your group and will conduct workshops for your chapter.
Order your copy of On Conflict and Consensus here

Exercises for Individual and Group Development, Building Blocks for Intimacy, Awareness and Community


by Charles Bufe and Dale DeNunzio Ph.D.
Chaz at See Sharp Press in Arizona co wrote a book on how to improve group process. You can get a copy for only $5 each. Send $5 to Food Not Bombs, PO Box 744, Tucson, AZ 85702 U$A for your copy. For 10 copies send $30 to the same address. The book might really help every chapter improve its group process.See Sharp Press



EAT THE RICH, Food Not Bombs Cook Book


About a year ago some people in the Minneapolis chapter of Food Not Bombs created a lovely vegan cookbook entitled "Eat The Rich". It is a 54 page cookbook in a halfsheet zine format that contains numerous recipees, vegan factual information, tips on starting your own FNB group, philosophy and history behind FNB, a contact listing of Minneapolis resources, humor and lots of half-naked people. They are $2 by mail and $1.50 (or whatever donation) in person. If interested in a copy please write to us at Food Not Bombs c/o Arise! Bookstore 2441 Lyndale Ave. S. , Minneapolis, MN 55405.



RISE UP, Class Warfare in America from the Streets to the Airwaves


Richard Edmondson, co-founder of San Francisco Liberation Radio (SFLR) tells the story of San Francisco Food Not Bombs and the start of the micro powered radio movement.
Librad Press



HOMES NOT JAILS, A Novel


Homes Not Jails activist Michael Steinberg shares the story of mass organized squatting in San Francisco. $10
Order here



EAST BAY FOOD NOT BOMBS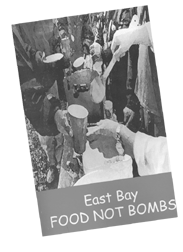 "East Bay Food Not Bombs," by Lydia Gans and Cary Karacas, is a 94-page book combining group history and vision, personal stories, and the striking photography of Lydia Gans. Available for $8ppd from Food Not Bombs/Long Haul, 3124 Shattuck, Berkeley, CA 94705.


Author Judy Foster has been involved with Reclaiming since before it was born. She is an astrologer, a cook, a Priestess of the Craft, and a lot of other things too.
Photographer Lydia Gans, besides doing Food Not Bombs, photographs and writes for several newpapers, and has had two books published: "To Live with Grace & Dignity" and "Sisters, Brothers and Disability."


Place your order for books, buttons & Other Goodies
---

Food Not Bombs
P.O. Box 424, Arroyo Seco, NM 87514 USA
505-776-3880
1-800-884-1136
menu@foodnotbombs.net
www.foodnotbombs.net
| Start a Food Not Bombs | Main Menu | Food Not Bombs Contacts | Donate A Dollar For Peace |