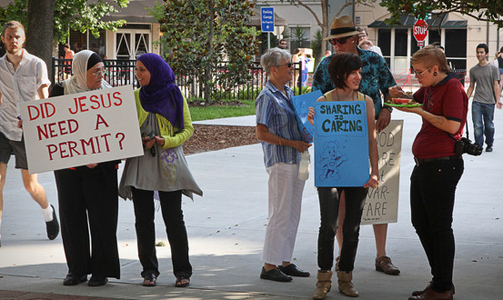 Local community supports the right to share food with the hungry

FOOD IS A RIGHT NOT A PRIVILEGE
Sharing food with the hungry is an unregulated act of kindness. Resist all laws restricting compassion.



Effort to hide the hungry continues across the United States.
Boulder City wants feeding homeless out of sight
Group feeds homeless in Olympia despite city's order to stop
Feeding the homeless in Raleigh barred by cops until Mayor and Council intervene.
Citation issued to Food Not Bombs in Taos, New Mexico on October 5, 2013




Last Sunday, October 6th Sacramento Food Not Bombs was kicked out of the Cesar Chavez Park by the Sacramento police. Volunteers were greeted by about 15 officers when they arrived at the park when they normally do in time to start sharing the meal they created by 1:30pm. They were told that our stuff would be confiscated and we would get a summons due to an ordinance that has yet to even be passed that would prevent any group from handing out free hot meal in the park.

Last week advocates for the poor were told to stop sharing meals with the hungry in Sacramento and Santa Monica, California, Taos, New Mexico, and Olympia, Washington. Groups were confronted and threatened with arrest in Boulder, Colorado; Raleigh, North Carolina, Portland, Oregon, Seattle, Washington and other cities across the United States this summer. In all over 50 cities in the United States have passed laws banning or limiting the sharing of meals with the hungry in the past two years with enforcement on the increase this fall. Our food is vegan, organic and no one has ever reported being made ill eating with Food Not Bombs. The goal of giving the public the impression we are required to get a permit is to justify forcing us to stop. We have no paid staff, our food is a gift and unregulated by the authorities. Like all acts of compassion no permission from the government is necessary.

Just before the government shut down the U.S. Congress approved a three-year nutrition bill (H.R. 3102), with a partisan 217-210 vote, that aims to cut about $40 billion over 10 years for the Supplemental Nutrition Assistance Program (SNAP) and provide various reforms to the program. House Rules Committee Chairman Pete Sessions, R-Texas, said the bill includes "reasonable changes" to address the "growing and growing and growing" amount of SNAP recipients. "There are still jobs available in America," Sessions said."They may not be ones you want to stay in your whole life." Democratic congress people said that 4 million low-income people, including 170,000 veterans would be cut from the food stamp program because of the vote.

The government shut down will stop payments to over 9 million low-income women and children who qualify for the Special Supplemental Nutrition Program for Women, Infants, and Children also known as WIC. Feeding hungry children is not considered essential yet 350,000 furloughed civilian employees of the Pentagon will return to work on Monday.

Please support Sacramento Food Not Bombs. We will be risking arrest on Sunday, October 13, 2013 at Cesar Chavez Park at 1:30 PM.


MORE ON THE RIGHT TO SHARE FOOD IN PUBLIC.



Authorities are seeking to stop or reduce the impact of Food Not Bombs in Taos, Santa Monica, Olympia, Portland, Boulder and Seattle during the summer of 2013. This follows past threats sucessfully resisted by organising global days of protest and refusing to cave in to local authorities. People are being threatened with arrest or cities adopting new laws limiting people's right to share free food with the public. It has been distressing to receive so many reports in the past few months. First the State of New Mexico fined Food Not Bombs $500 on June 1, 2013. The State returned on October 5th and issued another citation. News that the city wants to drive Boulder Food Not Bombs out of sight came in July, 2013. The flood seems to have derailed this effort for the time but may well return once the city has recovered. Activists in Santa Monica, California were told they would have to stop and are organizing to resist. Over 40 cities have passed laws banning or limiting volunteers from sharing food in public. Burlington, Vermont, Santa Cruz, California and Seattle, Washington started 2013 with efforts to drive hunger out of sight. A new wave of attacks started during the summer of 2013. People in England, California, Texas, South Carolina, and Florida contacted Food Not Bombs about having been threatened with arrest. Others report that their local governments are considering laws to limit acts of compassion.

This new wave of threats is happening as half of all Americans are struggling to survive. The Department of Agriculture's February report shows that 46,286,294 people relied on food stamps in November of 2011. People have been arriving at Food Not Bombs meals claiming they had not eaten in four days because other food programs had exhausted their resources. The Food and Agriculture Organization estimates that 1 in 7 people or 925 million people world wide went hungry in 2010. We are announcing a global campaign to recognize that sharing food with the hungry is an unregulated activity of compassion and should not be interfered with by the authorities.



ADDITIONAL RESOURCES
A PLACE AT THE TABLE
Report on efforts to stop the sharing of food with the hungry in the United States.
OFFICIAL REASON FOR DRIVING HUNGRY OUT OF SITE IN HOUSTON
Share, Fight, Care: The Story of Houston Food Not Bombs
Houston Food Not Bombs: Civil Disobedience in August with City Council Member Helena Brown
Food is a Right Jean Ziegler
Food Not Bombs activist cited by health officials in Taos
Our right to share food, literature at Taos Plaza
Boulder Food Not Bombs under attack July 2013
Tourism Hurt By Homeless Portland.
A Fight's Brewing in Colonel Summers Park
Hunger Is a 'Weapon of Mass Destruction ', says Jean Ziegler
SUPPLEMENTAL NUTRITION ASSISTANCE PROGRAM - NUMBER OF PERSONS PARTICIPATING
2012 World Hunger and Poverty Facts and Statistics Food and Agriculture Organization

PETITIONS

Speaker of the House: Change the laws that criminalize sharing food with hungry individuals
Allow Food Not Bombs Myrtle Beach to Feed the Hungry
The City of Dallas: Stop threatening people for feeding the homeless

NEW LAWS AGAINST SHARING FOOD

Proposed rules for feeding homeless on Parkway assailed
Philadelphia may start requiring permits for those who feed the homeless - February 10, 2012
WMBF Special Report: Homeless Bound
Myrtle Beach Deals With Homeless, Or Do They?
Please Don't Feed Our Homeless, Many Cities Say



You can start a Food Not Bombs group in your community - 1-800-884-1136




---
MORE ON THE HISTORY OF EFFORTS TO RESTRICT THE SHARING OF FOOD WITH THE HUNGRY

In June 2011 the police made 24 arrested for sharing vegan meals to the hungry in Orlando, Florida. Because we were able to build so much support the mayor agreed to end the arrests and dropped all charges against the volunteers. Resistence ends the attacks on Food Not Bombs. To read more on the case in Orlando, Florida we are providing these links.

On April 12, 2011 the Eleventh Circuit Court of Appeals ruled that the City of Orlando could limit Food Not Bombs right to share information and food to the public to twice a year per park.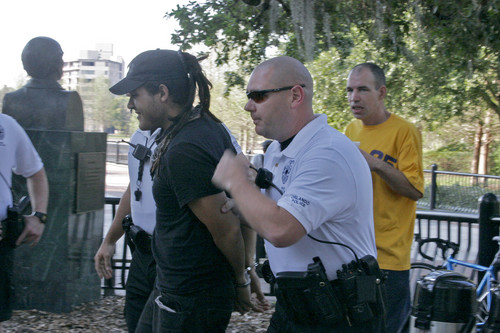 Protest outside the American consulate in Milan, Italy in solidarity with activists Food Not Bombs Orlando!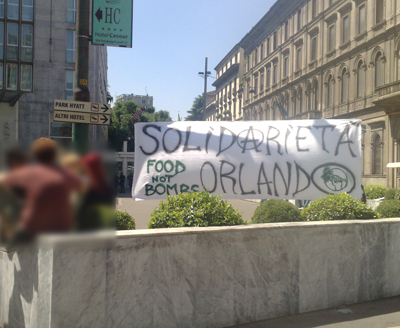 Protest banner in Italy
The full Eleventh Circuit Court of Appeals Ruling
Orlando Large Group Feeding Permit Law
MORE U.S. CITIES ATTACK FOOD NOT BOMBS

FOOD NOT BOMBS TELLS ORLANDO SENTINEL WHY IT PLANS TO CONTINUE DEFYING NEW LAW. (Video)
Pancakes, doughnuts and more arrests at Lake Eola
SOLIDARITY ACTION IN DETROIT(video) Thanks Detroit Underground.
The October2011 Coalition supports solidarity with Food Not Bombs
Hawaii Governor Neil Abercrombie on Tuesday, May 17 responding to question about why he discourages feeding homeless

Homeless and advocates to rally Wednesday at Hopeville Saint Petersburg,
Orlando Can Restrict Homeless Feedings
Appeals court sides with Orlando on food ban
Orlando group defies federal judge's ruling, continues to feed homeless
Homeless advocates decry court ruling restricting feedings in parks
Fight over homeless feeding site heats up in Fort Lauderdale
Ordinance Would Regulate Feeding Miam's Homeless
Miami Florida considers anti-homeless feeding law
Diablo Food Not Bombs Succeeds in Feeding the Hungry!



EMAIL FROM ALBUQUERQUE FOOD NOT BOMBS



Hey Friends and Supporters, On Friday, May 8, 2009, Food Not Bombs Albuquerque was notified that we are facing an injunction in court to stop sharing food anywhere that the state of New Mexico requires a permit. The motion filed by the New Mexico Environment Department cites Mike Butler, Patrick Jaite, and Several Unidentified Members of FNB as "John Does", as defendents. We are currently going to be talking with lawyers and figuring out what our next step is. We are still looking for any lawyer that will do pro-bono work to defend us. (our contact info will be below).Please spread the word about the repression that is happening and know that we will continue to share food to all that are hungry. Sincerely, Food Not Bombs Albuquerque fnb_505@yahoo.com and leave a message for us @ (505) 842-5697



LEGAL DOCUMENTS ORDERING FOOD NOT BOMBS TO STOP SHARING MEALS IN NEW MEXICO
Food Not Bombs meal cut short by cops
Middletown Group Issued Summons For Violation
Dozens Enjoy Middletown Food Not Bombs Meal, Police Issue 2 Tickets
Middletown Police Ticket Food Not Bombs
City Hall urges Food Not Bombs to obtain permit
In Orlando, a federal judge has ruled that sharing food with hungry and homeless people in public spaces is protected First Amendment activity.
You can read the court's decision here: Federal Court Order Protecting Our Rights
Meal program for homeless faces ban
Arrest is first under homeless-feeding law/ Orlando Sentinel
One day after Las Vegas officials close Huntridge Circle Park, four people jailed
Civic Center and Houston Food Not Bombs was told they would be arrested if they didn't stop feeding the hungry.




---

Food Not Bombs
P.O. Box 424, Arroyo Seco, NM 87514 USA
575-770-3377
1-800-884-1136
menu@foodnotbombs.net
www.foodnotbombs.net
| Start a Food Not Bombs | Main Menu | Food Not Bombs Contacts | Donate A Dollar For Peace |