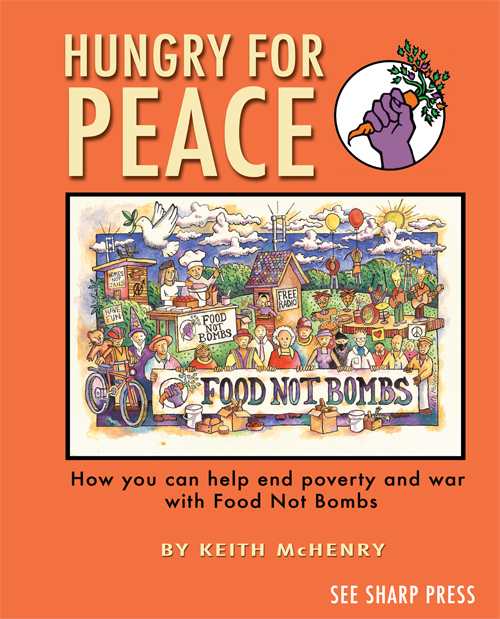 HUNGRY FOR
PEACE
How you can help end poverty and war with Food Not Bombs

Our new book about Food Not Bombs written and illustrated by Keith McHenry
pdf OF THE REVIEW COPY (Feel free to print out a copy - let us know if there is anything we need to change.)
The new 180 page Food Not Bombs handbook with over 100 photos and illustrations, vegan recipes to provide meals for groups of 100 and families of 6 people, the 30 year history of the movement and logistics on how to start a local group, organize meetings, tours, gatherings and successful campaigns of nonviolent direct action. This 8 1/2 by 11 inch book also includes flyers you can reprint, the time line of major events in the history of the movement and many other useful details to help change society. This book will help you and your friends do your part to participate in the global uprising.
ON LINE NOW FOR FREE AT HERE
Hard Copy out this Fall - Price $18.95 per copy.

We sold out of all 8,000 copies of our first book. This new book includes over 100 diagrams and photos, current information about world hunger and poverty. More about climate change and hunger. The politics of war and food. Our details on how to start a local group now include the use of the web, email and other technologies not available in 1992. We also added recipes for 6 people along with our recipes for 100 and also include metric measurements to make the book universal. Instead of a focus on American law we are including information about possible legal issues in countries all over world based on Keith's experience cooking and sharing meals with Food Not Bombs groups all over the world. We also include a history of the first 30 years of Food Not Bombs. There are many flyers and forms to help your Food Not Bombs group be as effective as possible.

Our first book helped hundreds of people start local Food Not Bombs groups and introduced thousands of others to the movement for to social change. With the addition information in our new book we expect another wave of interest. You are welcome to make a donation on paypal or email menu@foodnotbombs.net. If you have any questions call us at 1-800-884-1136. Thanks for your support.