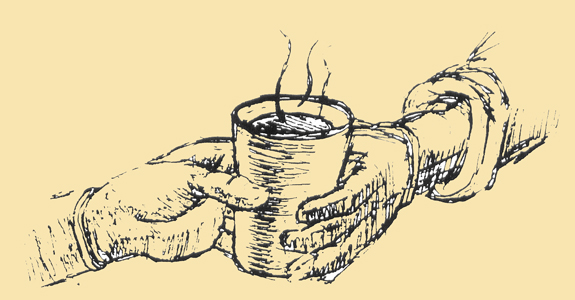 FOOD IS A RIGHT, NOT A PRIVILEGE
Sharing food with the hungry is an unregulated act of kindness. Rescind all laws restricting compassion. ARRESTS COULD START IN PHILADELPHIA THIS MONTH - HOUSTON COULD START TO ARREST VOLUNTEERS IN JULY

"I wholeheartedly support the action to protest laws against sharing food!"
Dr. Cornel West - author and professor Princeton University

"THERE IS NO RIGHT WAY TO GIVE OUT FOOD, THERE IS ONLY GIVING OUT ALL THE FOOD YOU CAN"
Kathy Mitro who posted a petition on line after being threatened with arrest for sharing food in Daytona Beach. Florida in January 2012



Food Not Bombs is organizing a global campaign to support the right to share food with the hungry in public. Food Not Bombs volunteers and local church groups facing arrest in Philadelphia starting this Friday, June 8, 2012. Houston is set to arrest our volunteers this July. Food Not Bombs volunteers are also being arrested for sharing meals in Minsk, Belarus. If you live near any of these three cities please consider joining us by risking arrest or volunteer to cook or help as a support person. The list of cities facing new laws against sharing meals in public is growing. Let us know if there has been any efforts to ban the sharing of meals in your community.



IF THE POLICE START TAKING YOUR FOOD

Another way we can prepare for the arrests is to organize an affinity group. Please visit our AFFINITY GROUP PAGE to learn more. If you can not go to Minsk, Philadelphia or Houston please organize a solidarity meal in your community. Let your local media know why you are organizing your action.

Charitable Group Offers to Pay Your Fines if You Ignore Philly's New Ban on Feeding the Homeless
City Begins Enforcement Of Ban On Outdoor Feeding Programs
Cities' homeless crackdown: Could it be compassion fatigue?
Philadelphia bans outdoor feeding of the homeless
APRIL 4TH - DAY OF HUNGER
Houston City Council Votes to Ban the Sharing of Food Outside.
Homeless feeding ordinance passes Council Homeless feeding ordinance protestors stage "feed-in"
Philadelphia Protest for the right to share
Philadelphia decides to stop outdoor feeding of homeless (Shocking Video)

We are proposing that people all over the world consider sharing free meals in celebration our right to food and participate in our campaign for an end to laws restricting acts of compassion. Celebrate our right to feed the hungry with music, theater, and the sharing of food. The city of Philadelphia may start to arrest our volunteers on June 8, 2012. The Houston law takes effect on July 1, 2012.


PLEASE PRINT OUT THESE FLYERS TO SHARE IN YOUR COMMUNITY



THE ARRESTS OF MINSK FOOD NOT BOMBS
TWO OPINION ARTICLES AGAINST THE SHARING OF FOOD IN PUBLIC
WHY DO WE HAVE A CAMPAIGN AND BILL OF RIGHTS
TEMPLATE FOR A MEAL OF SUPPORT IN YOUR COMMUNITY

GLOBAL CAMPAIGN FOR THE RIGHT TO SHARE FOOD


It has been distressing to receive so many reports in the past few weeks of people being threatened with arrest or cities adopting new laws limiting people's right to share free food with the public. People in Belarus, England, California, Texas, Pennsylvania, South Carolina, and Florida have been contacting the Food Not Bombs global coordination office about having been threatened with arrest for sharing food. Others report that their local governments are considering laws to limit acts of compassion. Food Not Bombs volunteers in Minsk have been arrested for sharing meals an police raided a benefit concert on March 24, 2012 charging 15 volunteers with sentenced to administrative arrests.

This new wave of threats is happening as half of all Americans are struggling to survive. The Department of Agriculture's February report shows that 46,286,294 people relied on food stamps in November of 2011. People have been arriving at Food Not Bombs meals claiming they had not eaten in four days because other food programs had exhausted their resources. The Food and Agriculture Organization estimates that 1 in 7 people or 925 million people world wide went hungry in 2010. We are announcing a global campaign to recognize that sharing food with the hungry is an unregulated activity of compassion and should not be interfered with by the authorities.

The public is encouraged to share meals with their community on Friday, June 1, 2012 to celebrate our right to share food and end all efforts to restrict acts of compassion.



ENDORSED BY



Barbara Ehrenreich - author of Nickel and Dimed
Dr. Cornel West - author and professor Princeton University
Noam Chomsky - author and professor M.I.T.
Michael Parenti - author and lecturer
Raj Patel - author of Stuffed and Starved
Eric Holt-Giménez - Food First/Institute for Food and Development Policy
Bill McKibben - author Deep Economy
David Barsamian - founder and director of Alternative Radio
David Rovics - Musician, USA
Kevin Devine - Musician, Brooklyn, NY
Dorinda Moreno - Fuerza Mundial Collaborative
Rev. Brian Burch - President, St. Clare's Multifaith Housing Society
Francisca James Hernández, Ph.D. - Southwest Institute for Research on Women
Kathy Kelly - Co-coordinator, Voices for Creative Nonviolence
Max Ventura - Musician, Activist, Mom, USA
Michele Burke - St. John's, Newfoundland, Canada
Rabbi. Auri V. Ish - Musician, Nederland Colorado
Christina Persaud - Halifax Nova Scotia
Can Baskent - Practical Anarchy, New York City
Planting Justice - Oakland, CA
KT Terry - Founder Homeless Not Hopeless Poets For Change
Marian Wagner - The North Country Coalition for Justice and Peace, East Ryegate, Vermont
Tessza Udvarhelyi - The City is for All, Budapest, Hungary
Tristram Stuart - organized "Feeding the 5000"in London's Trafalgar Square UK
Kathy Mitro - Daytona Beach, Florida USA
Agustina Vidal - Myrtle Beach Food Not Bombs
Birmingham Food Not Bombs - Birmingham, UK
Keith McHenry - Co-founder of the Food Not Bombs Movement
Lauren Melodia - Founder & Co-organizer Milk Not Jails USA
Tom Ferguson - Author, Atlanta, Gerogia USA
Comida, no bombas - Monterrey, Mexico
Tampa Food Not Bombs - Tampa, Florida USA
Grand Rapids Food Not Bombs - Grand Rapids, Michigan, USA
The Civil Liberties Defense Center - Eugene, Oregon, USA
Durango Food Not Bombs - Durango, Colorado, USA
Houston Food Not Bombs - Houston, Texas, USA
Budapest Food Not Bombs - Budapest, Hungary
Randall Amster - Chair of the Master's Program in Humanities at Prescott College, and also serves as the Executive Director of the Peace & Justice Studies Association. USA
Ellen Murphy - Bellingham, WA, USA
Cincinnati Food Not Bombs - Cincinnati, OH, USA
Miakoda (jyll taylor) - founder & director of Fierce Allies
Washington D.C. Food Not Bombs - Washington D.C. USA
Christy Prahl - New Communities Program Director - Humboldt Park, Chicago, IL
Buffalo Food Not Bombs - Buffalo, NY, USA
Cranford Joseph Coulter - founder and director or The King's Jubilee, Philadelphia, PA, USA
Hector Lopez - Constable of New Canaan, New Canaan, CT, USA
Sanjay Kharod - Executive Director New Orleans Food & Farm Network (NOFFN), New Orleans, LA, USA
Carol Denney - musician, Editor of the Pepper Spray Times, founder of Fiddlers for Peace
Las Vegas Food Not Bombs - Las Vegas, NV USA
Gail Sacco - Homeless Advocate, Las Vegas, NV USA
Molly D. Anderson - Partridge Chair in Food & Sustainable Agriculture Systems, Bar Harbor, ME, USA
Dr. Will Tuttle - author, The World Peace Diet, and co-founder, Circle of Compassion
Don McCormick - Trustee Patient Physician Cooperatives Houston, TX and Portland, OR, USA
James Heddle and Mary Beth Brangan - Co-Directors EON, The Ecological Options Network
Vancouver Catholic Worker - Vancouver BC Canada
Theresa and Blase Bonpane - Directors Office of the Americas, Los Angeles, CA, USA
Don Madden - Grass Valley, CA, USA
Peter Phillips - President: Media Freedom Foundation/Project Censored
Jack & Felice Cohen-Joppa - editors the Nuclear Resister, Tucson, AZ, USA
Gary M. McClelland, PhD.- Department of Psychiatry and Behavioral Sciences, Feinberg School of Medicine, Northwestern University, Chicago IL, USA.
PRINT OUT OUR FLYER
PRINT OUT FLYER ANNOUNCING THE TIME AND LOCATION OF YOUR CELEBRATION
This flyer includes the lyrics of Leon Rosselson's song about the Diggers called " World Turned Upside Down." Consider signing this powerful song at your celebration.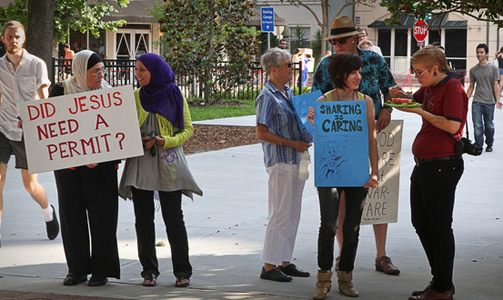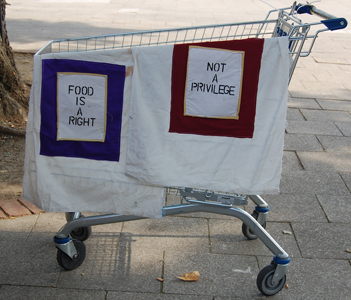 The community supports the right to share food with the hungry

ADDITIONAL RESOURCES


As the global economy faces a growing crisis more families are seeking food. A war with Iran and economic crisis on the Euro Zone could bring about another Great Depression increasing food prices causing even more need to share food with the hungry. Government claims that people are required to raise tens of thousands of dollars to rent, renovate and pay for permits is an obstacle to most Americans to sharing food with the hungry. Food banks, church soup kitchens and shelters are already unable to meet the need often turning away as many as 15 to 20 percent of those seeking their support. Congress is threatening to cut the Food Stamp Program to cut government costs. Everyone regardless of income should have the right to help those needing food. It is clear that organizations that can afford to meet the costly government restrictions are not interested in helping feed the hungry. Learn more on this issue and join us in ending all restrictions to compassion. Thank you so much for your support.



SAMPLE STATE LAW PROTECTING THE RIGHT OF ALL TO SHARE FOOD WITHOUT REGULATION
Connecticut General Statute 19A-36 was changed on October 3, 2009


According to Peter Goselin, one of the lawyers for Food Not Bombs, "the amended state statute not only protects free distribution of food to people who need it in Connecticut, but should be viewed as a model for other states to follow so that faith-based and civic organizations can do what is needed. This is particularly important given news released today that one in six Americans now live in poverty."*


Connecticut General Statute 19A-36 was changed on October 3, 2009
*In 2011 that figure increased to one in two Americans live in poverty - HALF OF ALL AMERICANS LIVE IN POVERTY
A PLACE AT THE TABLE - National Coalition for the Homeless Report on laws restricting the sharing of food.
Report on efforts to stop the sharing of food with the hungry in the United States.
Food is a Right Jean Ziegler
Hunger - Where We Are, Where We Need to Be by Greg Kaufmann - March 2, 2012
Hunger Is a 'Weapon of Mass Destruction ', says Jean Ziegler
SUPPLEMENTAL NUTRITION ASSISTANCE PROGRAM: NUMBER OF PERSONS PARTICIPATING
2012 World Hunger and Poverty Facts and Statistics Food and Agriculture Organization

PETITIONS

Speaker of the House: Change the laws that criminalize sharing food with hungry individuals
The right to share food in Philadelphia Petition
Oppose the New Zealand Government Food Bill 160-2
Allow Food Not Bombs Myrtle Beach to Feed the Hungry
The City of Dallas: Stop threatening people for feeding the homeless

NEW LAWS AGAINST SHARING FOOD

BELARUS
Food Not Bombs activists to stand trial after riot police's raid on charity concert in Minsk
Ill-treatment in Minsk's detention centre goes on

NEW ZEALAND



Sharing food is a basic human right. - The New Zealand Food Bill 160-2 will seriously impede initiatives like community gardens, food co-ops, heritage seed banks, farmers markets, bake sales, and roadside fruit & vegetable stalls. Sign this petition to show that you oppose Food Bill 160-2
A link to the actual bill here - http://bit.ly/ol7zgJ
More information here - nzfoodsecurity.org



NEW YORK CITY

Food Police: Bloomberg Bans Home-Cooked Meals for the Homeless



HOUSTON

Homeless feeding plan goes to vote amid protests
Commentary: Rules needed to protect homeless, property owners - March 2, 2012
NOTE- Realated article about sharing meals in Orlando, Florida - June 19, 2011



Houston Food Not Bombs has been sharing healthy vegetarian food with hundreds of hungry people, several nights a week, for over 18 years and is a 2011 Recipient of a Peacemaker Award from the Houston Peace and Justice Center.

Well funded Houston homeless service organizations, developers, and city officials are promoting new regulations for dozens of groups like ours that provide food for the homeless in Houston every week.

Wednesday March 7, at the 9am session, Houston City Council will consider amending chapter 20 of the code of ordinances, imposing five new regulatory and licensing requirements for those who feed hungry people in Houston. These regulations would bring the work of non-professionals who do homeless service work under city and police purview. This law fits squarely in the context of criminalization of sharing of food across the country. Food Not Bombs participants in U.S. Cities have ended up in jail when restrictive new laws came into effect.

We need your help! Here are some talking points:
- volunteer groups provide absolutely essential services to hungry people- imposing new laws will cause volunteers to be fined and arrested - small community and religious organizations do not have the same resources or grants to do their work, they are not full time paid employees who have the resources to jump through regulatory hurdles - homelessness is not a crime, nor is helping the homeless

1) Circulate this email: We need religious groups, and others doing important work to make their calls to the City Council members Monday and Tuesday.

2) Come to City Council Tuesday March 6th to speak to City Council about this. Call Monday to register with the City Secretary: (832) 393 1100 and ask for 1 minute to speak (do not ask for 3 minutes).

3) Call and email your city council members:

Helena Brown, 832.393.3010, districta@houstontx.gov
Jerry Davis, 832.393.3009, districtb@houstontx.gov
Ellen Cohen, 832.393.3004, districtc@houstontx.gov
Wanda Adams, 832.393.3001, districtd@houstontx.gov
Mike Sullivan, 832.393.3008, districte@houstontx.gov
Al Hoang, 832.393.3002, districtf@houstontx.gov
Oliver Pennington, 832.393.3007, districtg@houstontx.gov
Ed Gonzalez, 832.393.3003, districth@houstontx.gov
James G. Rodriguez, 832.393.3011, districti@houstontx.gov
Mike Laster, 832.393.3015, districtj@houstontx.gov
Larry Green, 832.393.3016, districtk@houstontx.gov
Stephen C. Costello, 832.393.3014, atlarge1@houstontx.gov
Andrew C. Burks, Jr., 832.393.3013, atlarge2@houstontx.gov
Melissa Noriega, 832.393.3005, atlarge3@houstontx.gov
C.O. "Brad" Bradford, 832.393.3012, atlarge4@houstontx.gov
Jack Christie, 832.393.3017, atlarge5@houstontx.gov


4) Come out to a sharing at 521 Lamar St., 77002 (The Houston Downtown Public Library Courtyard) on Mon., Wed., & Fri. at 8pm, and Sunday at 7pm. Bring vegan food to share or just bring yourself!

read the Houston City Council agenda here:
read the Houston Chronicle Commentary here:



FORT LAUDERDALE

Lauderdale homeless situation must change, officials say





SANTA MONICA



Santa Monica City Council plans to vote on a new law requiring groups to get a permit to share meals with 75 or more people. At the same time they a similar Community Bill of Rights ordinance that we are using to support the right to share food without regulation. The community is encouraged to contact the Santa Monica City Council before the Tuesday, February 21, 2012 meeting and ask them not to pass the Gathering Permits law. Thanks
Gathering permits
Gatherings including more than 75 people on the Third Street Promenade will need to get a permit in the future after the City Council took its first vote on an ordinance changing the permitting rules. Staff cited space constraints and safety as reasons for the change. Previously, it took over 150 people to require a permit.



A night with Santa Monica Food Not Bombs
Gathering permits directed towards groups sharing food in Santa Monica
Feeding homeless in public raising concerns yet again

PHILADELPHIA

The right to share food in Philadelphia Petition
Please email Philadelphia Health Commissioner's Office Representative, Sandra Greene today. Must have all comments in by March 8, 2012.
Sandra.greene@phila.gov
Arguments about food safety rules should consider the homeless people being served February 21, 2012

FOOD NOT BOMBS FOOD SAFETY PAGE
Proposed rules for feeding homeless on Parkway assailed
Philadelphia may start requiring permits for those who feed the homeless - February 10, 2012

MYRTLE BEACH

Horry County police arrest 10 people in Myrtle Beach area homeless camp sweep February, 21, 2012
WMBF Special Report: Homeless Bound
Myrtle Beach Deals With Homeless, Or Do They?
Please Don't Feed Our Homeless, Many Cities Say

DETAILS ON THE DIGGERS

The English Diggers
The World Turned Upside Down - The Diggers - Leon Rosselson - text
The World Turned Upside Down - The Diggers - Leon Rosselson - music video


---
MORE ON THE HISTORY OF EFFORTS TO RESTRICT THE SHARING OF FOOD WITH THE HUNGRY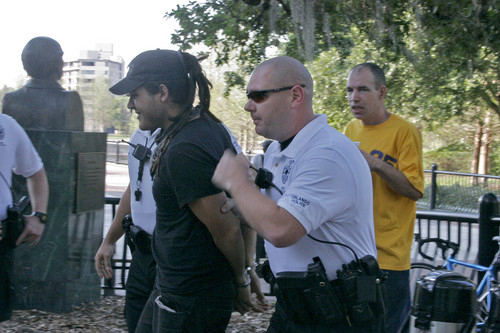 The first arrest for sharing food in Orlando, Florida


In June 2011 the police made 24 arrested for sharing vegan meals to the hungry in Orlando, Florida. Because we were able to build so much support the mayor agreed to end the arrests and dropped all charges against the volunteers. Resistence ends the attacks on Food Not Bombs. People all over the world organized meals in solidarity with Orlando Food Not Bombs. To read more on the case in Orlando, Florida we are providing these links.

On April 12, 2011 the Eleventh Circuit Court of Appeals ruled that the City of Orlando could limit Food Not Bombs right to share information and food to the public to twice a year per park.

The full Eleventh Circuit Court of Appeals Ruling

Orlando Large Group Feeding Permit Law





EXAMPLES OF SOLIDARITY ACTIIONS IN PROTEST OF THE ARRESTS IN ORLANDO


Please consider organizing a meal with music and other cultural activities on April, 1,2012. Invite your local media to the action and let them know you are part of a global campaign to end laws restricting the right to share free meals with the hungry. Please email us the details of your local action to post on the website. When the police were making arrests in Orlando, Florida people organized meals and actions calling for the right to feed the hungry. This is just a tiny example of the global effort. Thanks


Protest outside the American consulate in Milan, Italy in solidarity with activists Food Not Bombs Orlando!
SOLIDARITY ACTION IN DETROIT(video) Thanks Detroit Underground.
The October2011 Coalition supports solidarity with Food Not Bombs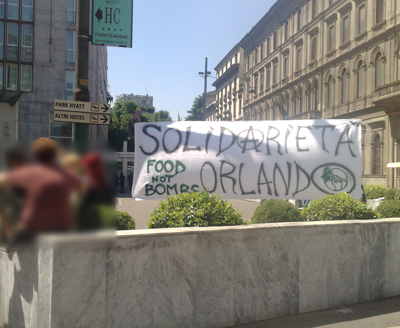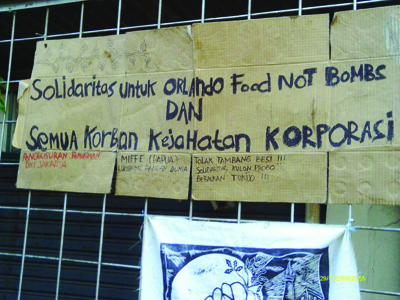 Protest banners at solidarity actions in Italy and the Philippines
MORE U.S. CITIES TRY TO STOP THE SHARING OF MEALS
FOOD NOT BOMBS TELLS ORLANDO SENTINEL WHY IT PLANS TO CONTINUE DEFYING NEW LAW. (Video)
Pancakes, doughnuts and more arrests at Lake Eola
Hawaii Governor Neil Abercrombie on Tuesday, May 17 responding to question about why he discourages feeding homeless
Homeless and advocates to rally Wednesday at Hopeville
Saint Petersburg,
Orlando Can Restrict Homeless Feedings
Appeals court sides with Orlando on food ban
Orlando group defies federal judge's ruling, continues to feed homeless
Homeless advocates decry court ruling restricting feedings in parks
Fight over homeless feeding site heats up in Fort Lauderdale
Ordinance Would Regulate Feeding Miam's Homeless
Miami Florida considers anti-homeless feeding law
Diablo Food Not Bombs Succeeds in Feeding the Hungry!
EMAIL FROM ALBUQUERQUE FOOD NOT BOMBS
Hey Friends and Supporters, On Friday, May 8, 2009, Food Not Bombs Albuquerque was notified that we are facing an injunction in court to stop sharing food anywhere that the state of New Mexico requires a permit. The motion filed by the New Mexico Environment Department cites Mike Butler, Patrick Jaite, and Several Unidentified Members of FNB as "John Does", as defendents. We are currently going to be talking with lawyers and figuring out what our next step is. We are still looking for any lawyer that will do pro-bono work to defend us. (our contact info will be below).Please spread the word about the repression that is happening and know that we will continue to share food to all that are hungry. Sincerely, Food Not Bombs Albuquerque fnb_505@yahoo.com and leave a message for us @ (505) 842-5697
LEGAL DOCUMENTS ORDERING FOOD NOT BOMBS TO STOP SHARING MEALS IN NEW MEXICO
Food Not Bombs meal cut short by cops
Middletown Group Issued Summons For Violation
Dozens Enjoy Middletown Food Not Bombs Meal, Police Issue 2 Tickets
Middletown Police Ticket Food Not Bombs
City Hall urges Food Not Bombs to obtain permit
In Orlando, a federal judge has ruled that sharing food with hungry and homeless people in public spaces is protected First Amendment activity.
You can read the court's decision here: Federal Court Order Protecting Our Rights
Meal program for homeless faces ban
Arrest is first under homeless-feeding law/ Orlando Sentinel
One day after Las Vegas officials close Huntridge Circle Park, four people jailed
Civic Center and Houston Food Not Bombs was told they would be arrested if they didn't stop feeding the hungry.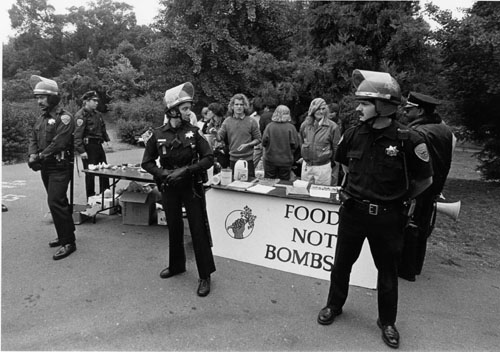 The first arrests for sharing food on August 15, 1988 in San Francisco, California


---

Food Not Bombs
P.O. Box 424, Arroyo Seco, NM 87514 USA
575-770-3377
1-800-884-1136
menu@foodnotbombs.net
www.foodnotbombs.net
| Start a Food Not Bombs | Main Menu | Food Not Bombs Contacts | Donate A Dollar For Peace |