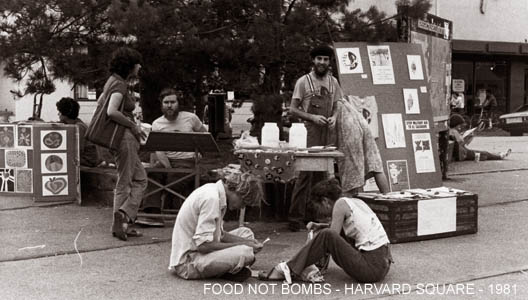 ---
MONTERREY PROPOSALS
During the 30th Anniversary Gathering 14th to 16th of May 2010 in the city of Monterrey, Mexico the participants came to consensus on three proposals.

PLEASE CONSIDER OUR PROPOSAL WITH YOUR LOCAL CHAPTER

Monterrey Food Not Bombs Gathering Proposals Consented to on May 15, 2010 ( first draft)



The Food Not Bombs activists from around Mexico, Texas and New Mexico participated in the May 14 - 16, 2010 Food Not Bombs Gathering in Monterrey Mexico. We had two days of discussions, collected and prepared food and shared over 100 vegan meals during the 30th Anniversary Soupstock in a beautiful central Monterrey plaza. During two days of discussion those attending talked about the possibility of using our global network to take coordinated actions and We also agreed that we needed to seek out all current contacts to make it possible to communicate with as many Food Not Bombs chapters as possible. The first thirty years of Food Not Bombs was focused on starting strong local autonomous chapters that fed the hungry and supported local community actions with the occasional gathering or collective kitchen in support of large protests. The participants at the Monterrey gathering thought it was time to develop a method or process for inter-chapter coordination and communication. It was observed that the world is in economic, political and environmental crisis and that Food Not Bombs could increase it's impact if our network was able to have better coordination. With chapters in nearly 1,000 communities we could organize and support many important campaigns if every Food Not Bombs group worked together. We agreed that it was important for each chapter to remain autonomous and make decisions using consensus but that we could also work in harmony with other autonomous chapters on projects like tours, gatherings and global days, weeks or months of action. We also saw that Food Not Bombs is unique in that we can provide food and logistics in cities all over the world initiating and supporting regional and global actions on a wide range of issues. This proposal is building on the ideas proposed at the August 2008 Food Not Bombs Gathering in the Ukraine. The participants at the 2010 Monterrey Food Not Bombs Gathering ask that you discuss these three proposals with the volunteers in your local chapter or at the 30th Anniversary Gatherings and share your ideas, concerns and support with the Food Not Bombs community.



1. IMPROVE THE FOOD NOT BOMBS CONTACT LIST



We came to consensus to seek the correct current contact details of as many Food Not Bombs groups as possible having Spanish, Russian and English speaking teams work to gather the contact information of groups that use these languages.



2. GLOBAL DAY OF ACTION ON WORLD FOOD DAY - OCTOBER 16, 2010



Those participating came to consensus to ask each Food Not Bombs chapter to consider our proposal to share food to the public on World Food Day to call attention to hunger and the issues of corporate domination to access to food. We noted that many Food Not Bombs groups have been sharing vegan and vegetarian meals out side of their local McDonalds on October 16th and thought we could expand the action from its past focus against McDonalds to include resistance against all corporate control of food, factory farming, genetic engineering and the increase in global hunger caused by these policies and systems. It was also suggested that we not only provide organic vegan meals outside our local McDonalds but produce educational literature, workshops, cultural events or show documentaries about these issues.



World Food Organization website





3. WORLD FOOD NOT BOMBS GATHERING IN MONTERREY MEXICO TO FOCUS ON INTER CHAPTER COMMUNICATIONS AND ACTIONS



Those participating in the Monterrey Food Not Bombs Gathering also came to consensus to ask each Food Not Bombs chapter to consider a proposal to hold a world gathering in Monterrey, Mexico with a focus on inter-group communication and inter-group coordination sometime in January or July 2011 preceded by continental regional gatherings in the months before so that more people could participate in generating ideas and proposals for inter-chapter networking and inter- group coordinated action. We discussed ideas about organizing fundraising projects to help pay for each chapter to send atlas two volunteers to the World Gathering. Monterrey Food Not Bombs pointed out that it had access to housing, meeting space and that more people would be free to travel to Mexico then to some other countries like the United States and that it would not be difficult of Food Not Bombs volunteers in the United States and Canada to travel to Monterrey. We also discussed the news reports of violence in northern Mexico and agreed that it would be safe for Food Not Bombs to host a World Gathering in Monterrey. Those participating in the Monterrey Food Not Bombs Gathering are seeking input, concerns and ideas about the proposal to have a World Gathering in Monterrey and are interested to learn if your volunteers would be able to participate in January or July.

We also agreed to post a link to these proposals on the first page of www.foodnotbombs.net. Please email your groups decision, concerns and ideas about these three proposals to Monterrey Food Not Bombs at otrocomidanobombasmty@ gmail. com and/or to the menu@foodnotbombs.net

We will wait for your asistance confirmation as soon as possible. Lets work for an Active Peace, a beating Peace, a creative, one that strenghts the blood, the mind and the hearts of the World. Gracias. Comida No Bombas Monterrey.



The Monterrey Food Not Bombs Gathering
CELEBRATING THIRTY YEARS OF COOKING FOR PEACE
---
FOOD NOT BOMBS
P.O. Box 424, Arroyo Seco 87514 USA
1-800-884-1136
Start a Food Not Bombs group

[ MAIN MENU | More FNB Websites | Flyers You Can Reprint | Food Not Bombs Handbook ]
[ How to Start a Food Not Bombs | Events | FNB Contact List | Home ]