The newest campaigns or information about the Food Not Bombs movement.

FOOD IS A RIGHT NOT A PRIVILEGE
NUMBER OF NEW FOOD NOT BOMBS GROUPS STARTING AT ALL TIME RECORD HIGH
Nairobi Food Not Bombs sets up the collection of unsold food - Addis Ababa Food Not Bombs shares first meal in Ethiopia!
Food Not Bombs groups in Rapid City, Fort Lauderdale and Saint Petersburg under attack by city
Food Not Bombs activists arrested in Minsk
Orlando Food Not Bombs case before Federal Appeals Court starting February 14, 2011
Food Not Bombs first meal shared on March 26, 1981 - Bake Goods Not Bank Bailouts Global Day Of Action March 26, 2011
These updates made on January 22, 2011
| | | |
| --- | --- | --- |
| The children wait for Addis Ababa Food Not Bombs | Keith and Doug sharing vegan meals in Nairobi | Addis Ababa Food Not Bombs shares food |
How Can We Feed the World and Still Save the Planet?
RISING FOOD PRICES AND THE IMPORTANCE OF FUNDAMENTAL CHANGE
Nairobi Food Not Bombs is seeking donations - please help.

Afghans for Peace emailed Food Not Bombs and started a conversation about how we can start a Food Not Bombs movement in Afghanistan.


---
Gaza Youth's Manifesto for Change

We will start by destroying the occupation that surrounds ourselves, we will break free from this mental incarceration and regain our dignity and self respect.  We will carry our heads high even though we will face resistance. We will work day and night in order to change these miserable conditions we are living under. We will build dreams where we meet walls.   
We only hope that you – yes, you reading this statement right now! – can support us. In order to find out how, please write on our wall or contact us directly: freegazayouth@hotmail.com  
We want to be free, we want to live, we want peace.  
FREE GAZA YOUTH!


---
WE LOVE FREEDOM OF EXPRESSION
Food Not Bombs Global Day of Action to Defend Our Right To Free Expression on Valentine's Day - Monday, February 14, 2011.
ARRESTING FOOD NOT BOMBS IS CENSORSHIP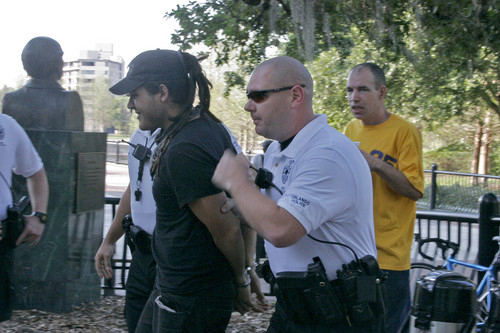 Suggested Location: Outside U.S. embassies, U.S.Federal Courts and offices or U.S. military bases in your area.
ORGANIZING COORDINATED ACTIONS IN SUPPORT OF FREE EXPRESSION IN THE UNITED STATES
The 11th U.S. Circuit Court of Appeals in Atlanta, Georgia will hear the Orlando Food Bombs case the week of February 14, 2011. On April 4, 2007 Food Not Bombs volunteer Eric Montanez was arrested under a new Orlando law designed to hid the homeless from view. Many cities in the United States are adopting policies to hide the crisis of poverty instead of seeking solutions. Along with passing anti-homeless laws officials have been trying to drive Food Not Bombs groups out of sight in cities all across the United States. Volunteers have been arrested, beaten, had their banners and literature discarded and a number of volunteers remain in prison. Police have also told Food Not Bombs groups that they can feed the hungry as long as volunteers don't hand out literature and display banners, arguing that our message is not protected Free Speech by the First Amendment of the United States Constitution.
The fact that there is so much poverty in a country that spends half its federal budget on the military is an issue leaders in the United States would like to silence. Hiding our homeless friends and family members isn't a solution. Defend the right to freedom of expression and free speech in the United States!
Just ask the homeless! We're now well into the fifth year of the City of Orlando vs. Food Not Bombs saga, and it isn't getting any less interesting.

Happytown learned that Food Not Bombs, an activist group that feeds the homeless twice a week at Lake Eola Park will be granted a re-hearing of its lawsuit against the city in federal appeals court in Atlanta, scheduled for the week of Feb. 14, 2011. Police arrested one more volunteer in Orlando on December 15th.


Organizations at odds over free meals to homeless - Rapid City Food Not Bombs resists


orlandoweekly.com/news/happytown

PRINT OUT A SAMPLE FLYER TO ANNOUNCE YOUR LOCAL ACTION

Please email us the details of your local action to menu@foodnotbombs.net - thanks
---
MORE IN THE NEWS
Food Not Bombs on THE NATION Magazine activism site!
World Hunger Best Cured by Small-Scale Agriculture: Report
There Won't Be a Bailout for the Earth
Going Hungry in the Richest Nation on Earth
Climate Change and Disease Will Spark New Food Crisis, Says UN
Land of the Food Insecure: Record Rates of Hunger in US More US households short of food
Biotechnology Industry Spends Over Half a Billion Pushing Controversial Projects like Genetically Engineered (GE) Food Animals
Food Not Bombs: An Interview Pacific Free Press - By Mickey Z
America 39;s War on Food Not Bombs by Stephen Lendman
Global Food Crisis Forecast as Prices Reach Record Highs
Malnourished Children Swell Ranks of World's Hungry
The Food Crisis is Not About a Shortage of Food


---
Food Not Bombs activist Tatiana Semenishcheva arrested in Belarus



Tatiana Semenishcheva who volunteers with Minsk Food Not Bombs was arrested in a round up of local activists and accused of participating in the fire bombing of the Russian embassy In early September, authorities in the Belarusian capital Minsk undertook a series of searches and detentions in the apartments of several anarchists and public activists. Igor Bogachek, Valeria Khotina, Sergei Slyusar, Nikolai Dedok, Alexei Zhingerovsky, Alexander Frantskevich, and later, Anton Laptenok ended up in one of Minsks detention facilities.

All of the seven detained have been involved in a range of educational, humanitarian, or charitable undertakings, some are regular participants of peaceful ecological actions. Following these arrests, two prominent members of the activist community in Minsk were also detained Vladimir Volodin, a member of the council of the Belarusian Green Party, and Tatiana Semenishcheva, who is active in charities working for the homeless and stray animals.

Defend Tatiana Semenishcheva who volunteers with Minsk Food Not Bombs was arrested.



Prohibitions On Sharing Food With Homeless People


The National Law Center on Homelessness and Poverty and the National Coalition for the Homeless jointly released a new report entitled A Place at the Table: Prohibitions on Sharing Food with People Experiencing Homelessness.

A Place at the Table: Prohibitions on Sharing Food with People Experiencing Homelessness. (pdf of study)



The coming famine: risks and solutions for global food security

Next Up? A Food Price Crisis
The End of Oil, and Government
Food Prices to Rise by Up to 40 percent Over Next Decade, UN Report Warns
Food-stamp tally in the United States nears 40 million, sets record

---
WE LOVE OUR FREEDOM OF EXPRESSION GLOBAL DAY OF ACTION FEBRUARY 14, 2011
11th U.S. Circuit Court of Appeals will hear the Orlando case the week of February 14, 2011. Local and Federal officials have been trying to silence Food Not Bombs in cities all across the United States. The fact that there is so much poverty in a country that spends half its federal budget on the military is an issue leaders would like to silence.


Consider organizing a free vegan meal and rally outside your countries U.S. Embassy, U.S. federal courts or U.S. military bases on February 14, 2011. Contact your local media about this important issue.



This is what the Orlando Weekly had to say. Just ask the homeless! We're now well into the fifth year of the City of Orlando vs. Food Not Bombs saga, and it isn't getting any less interesting.

Happytown learned last week that Food Not Bombs, an activist group that feeds the homeless twice a week at Lake Eola Park, will be granted a re-hearing of its lawsuit against the city in federal appeals court in Atlanta, scheduled for the week of Feb. 14.

In the summer of 2006, the Orlando City Council passed an ordinance that banned groups from giving food to 25 or more people in a city park within two miles of City Hall, in other words, "public feeding." Members of Food Not Bombs, believing they were targeted by the ordinance, appealed the decision in federal court. Two years later, federal Judge Gregory Presnell overturned the ordinance, ruling that sharing food can be considered expressive conduct protected by the First Amendment. In December of last year, the Atlanta federal appeals court came to the opposite conclusion and ruled in favor of the city.

Food Not Bombs ' lawyer, Jacqueline Dowd, quickly filed for a re-hearing, and was notified a couple weeks ago that it would be granted. According to Dowd, a federal appeals court gets about 27,000 requests for re-hearings annually; only 75 are granted. "If I had known what a long shot it was, I probably wouldn't have tried it!" she said. Because the appeals court is essentially starting over with the case, Presnell's ruling is currently the supreme judgment so feedings are happening routinely at Lake Eola, as they have since 2005. Dowd says that she's "feeling pretty good" about their prospects for a victory in February, but if Food Not Bombs loses, it could throw a Hail Mary and appeal to "The Supreme." Court, that is. "There are other cities all across the country waiting to see what happens," Dowd says. "It could possibly set some precedents." To Dowd, whom we spoke to the day before mass turkey consumption, it's a no-brainer that sharing food is a form of expression: "It's the day before Thanksgiving try and tell me that food doesn't have symbolism."
orlandoweekly.com/news/happytown
11th U.S. Circuit Court of Appeals Ruling
FOOD NOT BOMBS DEFIES RULING
Protestors Take Food Fight To City Hall


---
Free All Food Not Bombs cooks


Eric McDavid is a political prisoner, currently serving a 20 year sentence in federal prison. He was arrested in January 2006 (as part of the government's ongoing Green Scare campaign against environmental and animal rights activists) after being targeted by an undercover informant who formulated a crime and entrapped Eric in it. Eric was targeted by the state for his political beliefs, and his case is important for everyone who dares to stand up. He is currently appealing his conviction and his sentencing.

Please send Eric a letter.
Eric McDavid 16209-097
FCI Victorville, Medium II
Federal Correctional Institution
PO Box 5300
Adelanto, CA 92301
USA
Free Eric McDavid

Eric is one of nearly twenty Food Not Bombs volunteers framed on terrorism related charges. Food Not Bombs is organizing a campaign to free all our prisoners. While it is an honor to see that military contractors and govenment authorities believe the work of Food Not Bombs could be effective and inspire popular support for a change in our national priorities we still think our nonviolent volunteers should not be the target of the global war on terror.

MORE DETAILS OF THE HISTORY OF U.S. GOVERNMENT DISRUPTION OF FOOD NOT BOMBS

Green is the new Red
---
Save Organic Seeds - Ban Genetically Engineered Food


Seed Sovereignty not Seed Slavery - Genetically Engineered Food is already a leading cause of hunger driving millions of farmers into bankrupsy.

Seed Sovereignty not Seed Slavery

Vandana Shiva says to Value Soil, Not Oil Factory farms extending reach of global hunger crisis, she says.

What We Don't Know About GE Crops!

Patents Trump Public Interest in Monsanto's Ag Empire.

Haitian Farmers to Burn Donated Monsanto Seeds

The Crisis of Genetically Engineered Food
- Please share this important interview with your friends. Dr. Pang is State Department of Health, Maui District health officer and one of the worlds leading experts on Genetically Engineered Food. This audio presentation should be heard by everyone. He spoke here as a private citizen.

---
Food Not Lawns


It is time to start getting ready to start your Food Not Lawns organic community garden. We can free our neigborhoods from corporate control by reclaiming empty lots and lawns by inviting your community to join you in starting a Food Not Lawns garden.
Food Not Lawns
---
Homes Not Jails takes action to resist housing crisis


Join us in helping American families return home. Start a Homes Not Jails chapter and help families save their homes or help people who are homeless find a place to live. Visit Homes Not Jails to learn how you can start a local chapter.
Facing Foreclosure? Don't Leave. Squat Marcy Kaptur of Ohio is the longest-serving Democratic congresswoman in U.S. history criticizes the bailout's failure to protect homeowners facing foreclosure. Her advice to "squat" cleverly exploits a legal technicality within the subprime-mortgage crisis.
ACORN Urges Civil Disobedience in Foreclosure Evictions



---
Books on Nonviolent Direct Action - Albert Einstein Institution





Consider reading this inspiring book
Waging Nonviolent Struggle: 20th Century Practice and 21st Century Potential by Gene Sharp. With the global economic, environmental and social emergancy threatening our future we hope everyone will get involved and join Food Not Bombs in organizing a campaign of nonviolent direct actions against corporate power.


---
Food Not Bombs volunteer Tristan Anderson Still Needs Your Help


Food Not Bombs volunteer Tristan Anderson sustained life-threatening injuries March 13, 2009 as he was taking photographs after a regular Friday demonstration over Israel's West Bank separation barrier. He needs our help.
Justice for Tristan Anderson


---
FOOD NOT BOMBS PREPARES FOR THE GLOBAL ECONOMIC CRISIS
Please join Food Not Bombs to provide food and logistical support for the families displaced by the crisis. Mobilize Your Community.


You can help Food Not Bombs address the problems caused by the collapes of the world economy. Plans to prepare for this crisis were agreed to at the March 2008 Food Not Bombs Gathering in Nashville. One of the most popular proposals was the creation of Food Not Lawns Gardens. Over 60 Food Not Lawns projects started in response to the ideas created at the gathering. It will be time to start germinating our seeds soon if you live in the northern hemisphere. Our southern chapters are starting the harvest. The people attending the gathering are encouraging that each group try to organize meals every day adding a day as people volunteer. As the economy crashes we will be called on to provide food, help with drinking water, electricity, heat and many other basic needs. This is a time for the Food Not Bombs to show that it is possible to bring our communities together and address the needs of everyone without violence or the coersion of the corporations and the state. This crisis gives us a chance to end consumerism and corporate domination. It is time to start creating a world of peace, social justice and respect for our environment.

Food Not Bombs groups are taking action against the failure of capitalism in communities all over the world. The weekly protests in Iceland take place near Food Not Bombs regular meal. Websites report "Couple of meters away from the park were the protests take place, a Food Not Bombs groups has been giving away food every Saturday for the last 8 or 9 months. Food Not Bombs has for sure had it's effect of the walking-by Icelanders, who are getting more curious and interested in alternative solutions to the problems of capitalism."
MORE ON THE DIRECT ACTION IN ICELAND
---
FOOD GOING INTO THE TRASH WHILE BILLIONS GO HUNGRY



Just $6bn Will Save a Generation from Starvation, says UN

Americans Toss Out 40 Percent of All Food - Published on Friday, November 27, 2009 by Live Science

Americans are tossing $100 billion of food a year
Timothy Jones of the University of Arizona reports on how much food is thrown away. We can recover this food and feed thousands. A community of well feed people provides an oppertunity to work for a better world.


---
Looking For All Food Not Bombs Songs


We are collecting all the songs about Food Not Bombs for a CD. If you know of a song that is about food Not Bombs please send us a digital copy, EP, tape, the liner notes and any images that might be linked to the song. Our address is Food Not Bombs Menu, P.O. Box 424, Arroyo Seco, NM 87514 USA. You can email a sound file to menu@foodnotbombs.net.
GREAT BIKE CARTS - Bikes At Work
Your Food Not Bombs chapter can organize benefit concerts and other fund raising projects to get a bike cart for your chapter.

---
MORE CAMPAIGNS Call 1-800-884-1136 of email us at menu@foodnotbombs.net center>

THE FOOD NOT BOMBS STARTUP KIT
Everything you need to start a local Food Not Bombs group in your community. A full color banner, on copy of the 126 page Food Not Bombs handbook, a DVD, flyers you can reprint and buttons. Everything you need to start a group.
THE FOOD NOT BOMBS HANDBOOK
This 126 page book shows you how to cook for 100 people, has detailed information about starting a Food Not Bombs group.
FLYERS AND IMAGES TO MAKE FLYERS
Flyers, graphics, logos, and photos you can use to help you start your Food Not Bombs group. Please use any of these images on posters, flyers or on your new website.
POST THIS FLYER ALL OVER TOWN
You can start a Food Not Bombs group in you community buy making copies of this flyer, add your phone number and post it all over town in cafes, bookstores, schools, and store windows.
FOOD NOT BOMBS MATERIALS
It can be helpful to raise money and awareness to have Food Not Bombs buttons, stickers and other materials on your table at events and concerts. Our office provides these materials at half price to Food Not Bombs chapters. You will attract more volunteers and support in your community when people see the Food Not Bombs image all over town.
CONTACT A FOOD NOT BOMBS GROUP NEAR YOUBefore you start a group see if one is already active in your community. If you do find a group in your town try work with them. Sometimes the contact information is old and the group has stopped so if you find this has happened then let us know and start a new chapter. You can also invite a Food Not Bombs group near your community to help you get started. When you get your group going please email us the correct contact information and the times, days and locatons of where you share food.
FOOD NOT BOMBS PRESENTATION
One great way to help start a Food Not Bombs group is to invite the co-founder Keith McHenry to speak to your community. Student activity centers at colleges and universities will provide funding for a presentation by Keith, helping with airfare and an honorarium. You can learn more about Keith and listen to his presentations here
YOUR LITERATURE AND FOOD TABLEYour Food Not Bombs group can have real impact when you include literature and a banner at every meal. If you set up your table at a location that is busy with a diversity of people at a time when lots of pedestrians walk by you will be able to attract more volunteers and discover new food sourses. You can also meet people who would have never known about the issues we are working on. Many Food Not Bombs tables are considered the place to visit for infromation, community as well as great food. This page shows you how you can have a more effective Food Not Bombs table.
---

Food Not Bombs
P.O. Box 424, Arroyo Seco, NM 87514 USA
575-770-3377
1-800-884-1136
menu@foodnotbombs. net
www.foodnotbombs.net
| Start a Food Not Bombs | Main Menu | Food Not Bombs Contacts | Donate A Dollar For Peace |