Super Highway
Seri Coast, Sonora, Mexico (November, 2001)

We ran into Bill and Debbie at the BICAS Art Auction.

"We're going camping Thanksgiving Week on an isolated beach in Mexico on the Seri Indian Reservation," they said. "You should come along."

We thought about it for all of three seconds.

It was a 10-hour drive to the Seri Coast -- three of them over one of the roughest dirt roads I'd ever driven.

As we sped through the dark, dodging potholes and washouts, I considered the fact that we were driving a 21-year-old van on an isolated gravel road in a country that's famous for highway robberies.

So I asked Keith to pass me another cold Tecate.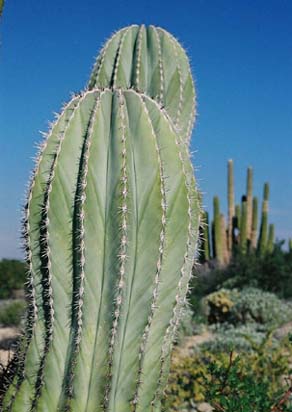 Cardón Cactus
Seri Coast, Sonora, Mexico
(November, 2001)

On the wild coast north of Bahia Kino, giant cacti march down to a shimmering blue sea. Most impressive is the giant cardón, the largest cactus in the world. It resembles the saguaro, but its branches have a bluish cast and are more numerous and closer to the ground.

Approximately two-thirds of the Sonoran Desert lies south of the border in our sister state of Sonora. Unfortunately, the Sonoran Desert enjoys no more protection in Mexico than in Arizona. In lightly populated Sonora, the desert is threatened more by overgrazing and erosion than by urban sprawl, but the results are the same. The classic "Sonoran Garden" of mixed giant cactus, cholla, barrel cactus, palo verde, mesquite and brittlebush is largely confined to national parks and nature preserves.