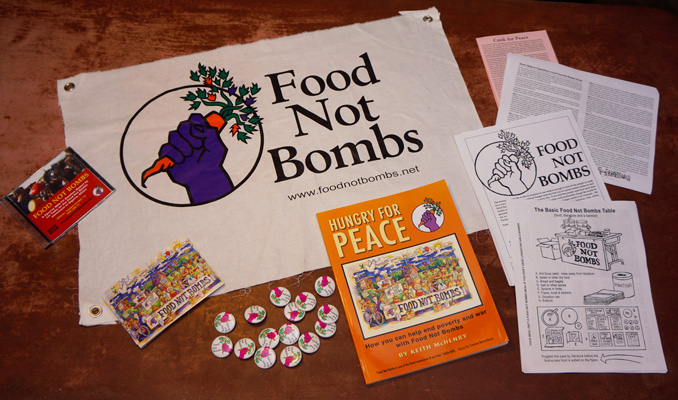 You Can Start A Food Not Bombs Chapter
Everyone can start feeding the hungry and work for peace and social justice by organizing a Food Not Bombs group.
The startup kit includes everything you need to start a Food Not Bombs group in your community. The kit includes a four color banner, 20 Food Not Bombs buttons, the new 182 page book Hungry for Peace that explains everything you need to know to start a group including how to cook meals that feed 100 people, flyers to reprint and post throughout your community and a dvd to show at your first event. The kit saves you $35 and makes it easy to get started. Add $5 for orders outside the U.S.
An additional way to help start a local chapter is to organize a presentation with Food Not Bombs co-founder Keith McHenry. Visit this site to schedual a presentation. Food Not Bombs Presentation
Price (including shipping and handling in the United States)
Regular
FNB *
Food Not Bombs Startup Kit
$100.00
$65.00
*Special prices for people starting a Food Not Bombs Group in their community.
How Would You Like to Order Your Startup Kit?
---

Food Not Bombs
P.O. Box 424, Arroyo Seco, NM USA
575-770-3377
1-800-884-1136
menu@foodnotbombs.net
www.foodnotbombs.net
| Start a Food Not Bombs | Main Menu | Food Not Bombs Contacts | Donate A Dollar For Peace |