FOOD NOT BOMBS GATHERINGS
Food Not Bombs Midwest Roundup: May 16-18, 2014


Hello from Food Not Bombs - Indianapolis!

We are opening up our homes, tuning our instruments, & boiling down some veggie broth for a Mdwest Food Not Bombs Round-Up May 16-18, 2014

Join us for Skill Shares (see list below and propose your own!), music, and of course cooking and eating; FNBindy does a serve every Saturday and Sunday. We also have housing (~100 people), kitchens (3), and the Indianapolis Worker Justice Center's spacious building and break-out rooms (so many) for all our needs.

1st organized event: Friday, May 16th 5:30pm @ Indianapolis Worker Justice Center (1734 W. Washington St. Indianapolis, IN 46222), a public screening, spoken word and potluck for national Food Revolution Day in collaboration with other Indy Food Justice groups.

Confirmed groups: Chicago Pilsen, Cincinatti, Bloomington, Fort Wayne, and 10-15 (probably more) Indy folks'll be attending. Please RSVP by beginning of May! Our email to RSVP is fnbindy@gmail.com

Spread the word! Let's grow the solidarity! Message us with any thoughts!

Proposed Skill Shares

-Food Justice, a history through an Anti-Capitalist lens (?)
-Setting up unofficial pickups (Cincy FNB)
-Organizing(&turn-out) using personal stories (FNB Indy)
-Reclaiming food (FNB Indy)

In Solidarity,
Sara, Xander and Matt
Food Not Bombs - Indianapolis
www.facebook.com/fnbindy
(503) 430-4513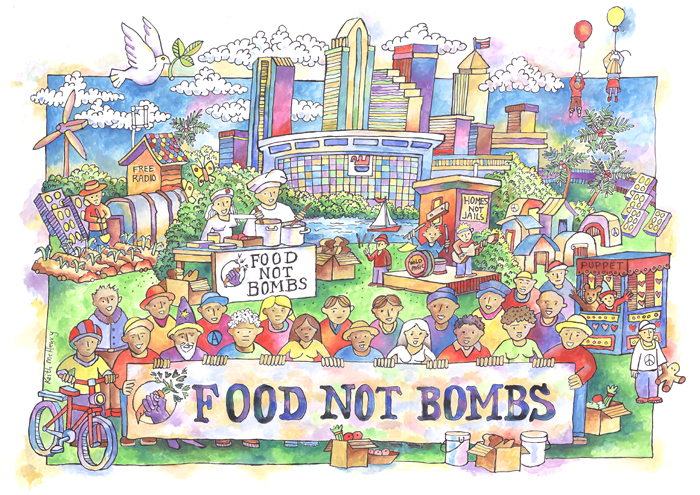 August 20th-26th, 2012 - Voice of Freedom Park, 2101 W. Main St, Tampa, Florida USA
www.facebook. com/foodnotbombs_world_gathering

FOOD NOT BOMBS REGIONAL GATHERINGS




With rice, beans and optimism, group plans to feed thousands of RNC protesters August 21, 2012
Food Not Bombs to Feed Protesters During RNC - August 22, 2012
Group readying food plan for hundreds of RNC protesters
Food Activists See Portents of New and Deeper Hunger Crisis
Carry Guns Not Puppets
Anarchists, prayer groups among those set to arrive for RNC




We're hard at work in Tampa planning all entertainment, education, and other events that will be taking places during that week in the Tampa Bay area. Above all, though, we are working on gathering the materials and supplies necessary to make this event successful. We are building the capacity to not only share food with the Tampa community throughout the week of the Gathering, but the protestors that will be showing up for the Republican National Convention. The gathering is going great!

So here is what we need most:

RAIN GEAR:

If you have tarps, rain coats or tents that is really helpful It is raining every afternoon. It is also hot so a water bottle to refill is also helpful.

Food: Dry and canned food, particularly beans, rice, potatos, pasta, canned veggies.

Water

Cooking supplies: Cooking oil, dish washing soap, hard plastic and disposable dishes, silverware, serving utensils, large pots and pans, tables, chairs

and closer to the event: fresh fruit and veggies, and lumber and other building materials for a stage and other structures we'll be working on for World Gathering events.



SCHEDULE



And finally, here's a schedule of some of the siginificant events for the Food Not Bombs Gathering - all events are free!

Daily at Voice of Freedom Park, 2101 W. Main St, Tampa:

Warm-ups & exercises 9 am Brunch 10 am Dinner & General Assembly 7 pm

Monday, August 20th: Workshops throughout the day including "How to start a Free Skool" and "How to Start a Food Not Bombs Chapter" Kick-off event with food, music, puppet shows, and kick-ball at Voice of Freedom Park, 5 pm.

Tuesday, August 21st: Workshops on conflict resolution, survival tactics, and knot tying, various locations.

Wednesday, August 22nd: Workshops on protest theater, clown bloq, medicinal plants, permaculture, gardening, canning, and preserving, various locations. Also a late night scavenger hunt!

Thursday, August 23rd: Workshops on parade puppets, copwatch, and DIY bike repair.
Keith McHenry will hold a workshop on how to get the most impact from your regular meal at 1:00 PM Thursday, August 23rd at Voice of Freedom Camp

Friday, August 24th: Workshops on DIY solar energy, I.W.W organizing and a special assembly: "What is the Future of Food Not Bombs?"

Saturday, August 25th: Free all-ages show at Market on 7th in Ybor, featuring David Rovics, Vermin Supreme, and more!



HOUSING



Space will be available at Voice of Freedom Camp during the event for campers and other options may become available as the event gets closer. Please contact tampafnb@gmail.com if you want to help with supplies for the event or want to help put together an event for the World Gathering.
OCCUPY CARAVAN RNC TO DNC / TAMPA TO CHARLOTTE / RIDE SHARE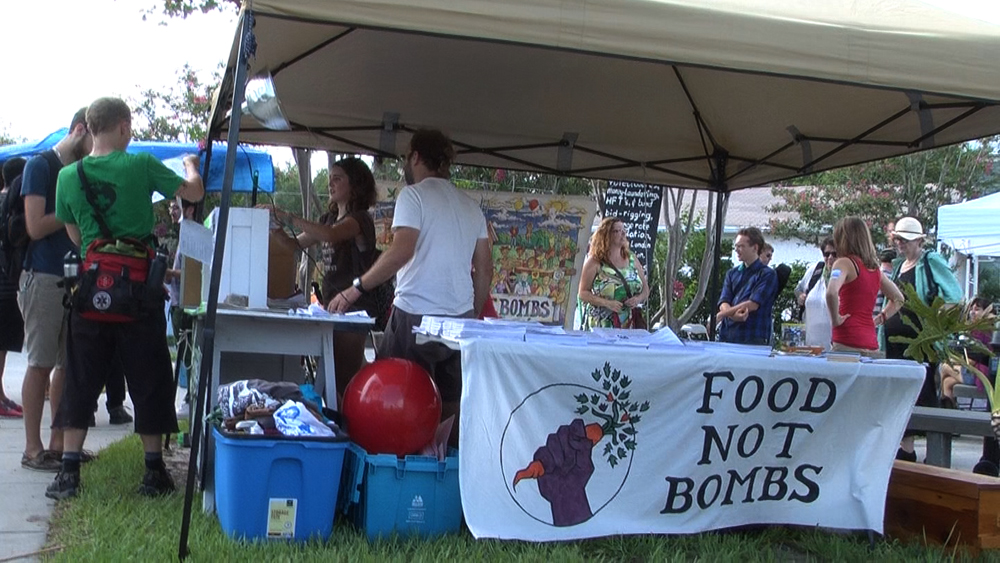 HOW DID WE CHOOSE TO ORGANIZE THE WORLD GATHERING


Food Not Bombs activists in Mexico proposed that we organize gatherings in every region of the world to develope inter-group communicaton and coordination. There were several regional Food Not Bombs gatherings in Florida in 2011. The participants at the May 18 - 24, 2011 gathering in Orlando, Florida came to consensus on a proposal to organize a Food Not Bombs World Gathering in Tampa and Saint Petersburg during the week before the Republican National Convention. Tampa, Saint Petersburg and other local Food Not Bombs groups have been working with other local organizers on plans for food, housing and other logistics when we met in May. Since there is a nation wide effort to restrict the activities of Food Not Bombs this would be a great place to organize a nation wide campaign to defend our rights. Some Food Not Bombs activist suggest that we talk about coordinated actions in solidarity with the global uprising. We will also have workshops on many subjects including how to have the most impact from your regular meal by including banners, literature, theater and music. The U.S. effort to silence Food Not Bombs is also being adopted in other areas of the world making it even more important to meet. It was again suggested that Food Not Bombs groups organize regional gatherings to prepare for the World Gathering in Tampa from August 20th-26th, 2012. This is a great oppertunity to help Food Not Bombs become even more effective at organizing for a world free of violence, domination and exploitation. The message of the Repulbican Party (and the Democratic Party for that matter) is more economic, political and ecological distruction. It is up to us to inspire change and support the transition towards a post capitalist future.

Email your requests for housing, workshop proposals and other questions about the 2012 World Gathering to: tampafnb@gmail.com



Help us bring more people to the Food Not Bombs World Gathering
Please PRINT a copy of the 2012 World Gathering black and white flyer and hand out copies at your meals and locla events.

Please PRINT a copy of the 2012 World Gathering full color flyer and post copies in your community.

www.facebook. com/foodnotbombs_world_gathering

First Tampa Regional Occupy General Assembly




View a Video of The 1995 Food Not Bombs Gathering in San Francisco to get an idea of what is possible.

Second version of the movie about the 1995 Food Not Bombs Gathering






MORE on the 2012 World Gathering
August 20th-26th, 2012, in Tampa, Florida - USA


We put forth several proposals to move the creation of this event along. We will be creating a rideshare page with the intent of connecting as many people as possible who wish to attend but don't have the resources on their own. This is a big priority.

We will be linking people to housing in Tampa during this week, more TBA.

We can at this point announce several workshops to take place that week and call on those who come to submit additional workshops


Know Your Rights Workshop Workshop with the National Lawyers Guild
Puppet-making with the Autonomous Playhouse & Friends -Large puppet making, costumes, and more
Rebel Clown Army Boot Camp - Calling on all seasoned veterans and fresh conscripts to join the Rebel Clown Army! Training will include basic clown skills, theater training, and costume & prop-making, as well as some advanced clown skills. Uncle Bozo Wants YOU!!!
Cultivating a Food Not Lawns community organic garden - From clearing vacant lots of toxins and garbage to planing your beds, collecting and planting your seeds to weeding, composting, watering and harvesting.
Solidarity Not Charity - Your meal isn't a Food Not Bombs meal if you don't have a banner and literature. Literature tables are key to change - how to get the most impact with your free distro. Choosing the best location to reach the most people. Tips on inviting the public to engage you in conversation. Examples of literature tables that inspired uprisings.
The magic of safe and free Train Hopping - Find out which cars are safest, the best areas of the yard to catch your ride, how to climb on and off each type of car, routes to use and tips on talking your way out of jail.
Meeting for Action - How to have the best meetings using consensus to inspire participation and dedication. Well considered agendas, encouragement of people often disempowered and an essential way to provide pubic access to participation in your Food Not Bombs chapter.
Recovering Food - Creating a system to recover the best quality food for your regular meals, protests, strikes and other direct actions.
Vegan Cooking for 100 - Taking the recovered food and preparing tasty meals for 100 hungry people. Spices that go well with each dish, how to get the most from garlic and onions, how to keep from over salting your meal and how you can keep from burring your rice. How much of what is enough for provide for 100 people. Cutting, dicing, chopping and slicing all to provide the best tasting organic vegan meals possible from the food you collect.
Reclaiming the Commons - Tent City Protests, Occupations and other protest on public lands. The logistics of planning, organizing and maintaining long term actions. Strategies for reclaiming public space and holding it including organizing food, sanitation, decision making and the other basics.
DIY marketing - Directing the public to your websites, social media, tweets and text messages with poster and flyer design, distribution and the best methods for wheat pasting.
Nonviolence Preparation Workshops and direct action strategy - How to organize a nonviolent Preparation workshop as part of your direct action strategy.
OFF GRID -alternative low tech ways to generate electricity, provide fresh water, shelter and other necessities

If you are interested in participating and need a visa to come to the United States please email your full name and contact information to Keith McHenry at keith@foodnotbombs.net

For housing, workshop proposals and other details please email tampafnb@gmail.com

Tampa Mayor Buckhorn announced that he would do all he can to stop the protests and disrupt our effort to provide food. We are organizing a global effort to defend our rights. After all the political parties in the United States are responsible for the economic and political crisis forcing millions to go hungry each month. The Republican Party should respect our right to protest and share food with the hungry. Please contact Amnesty International and the United Nations and ask them to organize a campaign to defend our rights. The Republican National Committee provided millions of dollars to local police to silence opposition to their policies in 2008. It is important that we start to organize today.



NEWS RELATED TO THE GATHERING AND PROTESTS

Crashing the parties - Five leading activists who plan to protest in Tampa this summer.

Mayor Buckhorn: Tampa will have 4,000 police for 2012 RNC

CONTACT AMNESTY INTERNATIONAL AND REQUEST SUPPORT FOR OUR RIGHT TO PROTEST AND PROVIDE FOOD TO THE PROTESTERS

Office of the United Nations High Commissioner for Human Rights
---
PAST FOOD NOT BOMBS GATHERINGS
---

Florida Food Not Bombs Gathering
May 18-24, 2011 in Orlando Florida
PRINT OUT OUR GATHERING FLYER

Florida Food Not Bombs Gathering Proposal - please forward and add suggestions.



Meetings, Music, Direct Action and Workshops -
All Food Not Bombs groups and activist groups are welcomed, Co hosted with One Struggle, and Direct action South Florida. We will be discussing how to build a stronger Food Not Bombs movement in Florida and how to build a stronger anti-capitalist movement in Florida

Saturday, May 21, 2011

Communications Workers of America Union Hall - Local 3108 - 2220 Edgewater Drive, Orlando, FL 32804

9:00 - 10:00 - Introductions - Name, group and short report back

10:00 - 12:00 - Workshops - Workshop A - Workshop B Workshop C

12:00 - 2:00 - Lunch

2:00 - 4:00 - Workshops - Workshop D - Workshop E Workshop F

4:00 - 6:00 - Gathering wide meeting - Resistance to Unjust laws against Food Not Bombs and the RNC

6:00 - 11:00 - Dinner, Party and after dinner workshops ( Video Showing of the 1995 Food Not Bombs Gathering) Bruce over RNC

The 1995 Food Not Bombs Gathering in San Francisco
1995 Food Not Bombs Gathering second posted version

FNB_gathering_SanFrancisco/FNB_SanFrancisco.mpg

Sunday, May 22, 2011

Communications Workers of America Union Hall - Local 3108 - 2220 Edgewater Drive, Orlando, FL 32804

9:00 - 10:00 - Introductions

10:00 - 12:00 - Workshops - Workshop G - Workshop H - Workshop I

12:00 - 2:00 - Lunch

2:00 - 6:00 - Gathering wide closing meeting - Come to consensus on proposals

Proposed Agenda for closing meeting-

1. Adopt a strategy to resist large group feeding laws in Florida

2. Adopt a proposal to organize a Global Food Not Bombs World Gathering and food support at the RNC in Tampa

6:00 - 8:00 - Dinner

WORKSHOPS

Please email us your proposals for workshops. Food Not Bombs is inclusive so make sure we have your input in making this gathering effective.

Morning Workshops Saturday, May 21, 2011 -

10:00 - 12:00 AM

A. Meetings can be Empowering Using Consensus - Meetings can be empowering with consensus at the root to revolution. We can offer access to our community by inviting them to participate in meetings using consensus. As governments and corporations fall this process can provide for a way to fill the void with democratically run collectives. We saw that the corporate media was amazed that the people are rising up without leaders. This process encourages leaderless uprisings and a process to build community after the dictators of capitalism leave. Invite everyone to participate in creating the direction of your group. - Facilitated by Keith McHenry

B. Organizing better inter-chapter communications and coordination - Maintaining state wide email lists, weekly reports at Food Not Bombs meetings and regular state wide gatherings and days of action.

C.Food Not NATO Food Not Bombs actions against NATO

Afternoon Workshops - Saturday, May 21, 2011 -

2:00 - 4:00 PM

D. People of Color Caucus - What can we do to increase our understanding of racism in our movement. Seeking solutions to build respect and organize against racism in Florida and in the kitchen.

E. A Global Food Not Bombs Gathering before the RNC August 2011 - Organizing to feed the protesters at the RNC National Convention in Tampa, Florida, August 2012. Workshops, discussions and preparation for participation in protests against the policies of the RNC Lessons learned from past government efforts to stop Food Not Bombs - Facilitated by Keith McHenry

F. One Struggle - One Struggle and NGO workshop

Morning Workshops - Sunday, May 22, 2011 -

10:00 - 12:00 AM

G. Solidarity Not Charity - Nonviolent Strategy For Change in Florida - Building unity by providing food in support of all community struggles. From displaying other groups literature on our tables to providing food at tent city occupations. Talk about building popular support for change in Florida. Starting with outreach and moving to state wide actions of occupation, and other nonviolent direct actions.- Facilitated by Keith McHenry

H. Legal strategies as Nonviolent Direct action.- From taking cities to the supreme court, filling jails in defiance of unjust laws to organizing a voters campaign to overturn the large group feeding laws.

I. Food Not Bombs Global Gathering August 2011 - Organizing to feed the protesters at the RNC National Convention in Tampa, Florida, August 2012


HOUSING AT THE GATHERING Please email us the number of people with your group needing housing.
Please email your workshop proposals and housing need to: menu@foodnotbombs.net


---
PAST FOOD NOT BOMBS GATHERINGS
---
Food Not Bombs Anniversary May 22nd in Aarhus Denmark!

We are having a Soupstock/fnb celebration in a park in Aarhus on the 22. May!
foodnotbombsaarhus@gmail.com< /a>



---
The Boston Chapter of Food Not Bombs presents

SOUPSTOCK: A 30TH ANNIVERSARY CELEBRATION
Confronting poverty and empowering the voiceless
Sunday, May 23, 2010 from 12-5pm on the Boston Common, Boston, MA 02115

Call Kassie Carlson at 774-521-9902 or email FNBBoston@gmail.com
WORKSHOP SCHEDULE

Join us for a one-day celebration to commemorate the Food Not Bombs movement, birth, and history. Live music, theater, workshops, interactive table spaces, exhibits, kids activities, a picnic, and more will be featured throughout the day with the purpose of raising awareness of poverty, issues of food security, and homelessness. Please join us May 23rd 2010 to celebrate 30 years of community, homeless advocacy and free food. The mission of Food Not Bombs is to serve free, weekly community meals to those in need. Two meals take place in Boston each week, including Friday from 4-6pm at the Park Street MBTA station and Sunday from 3-5pm at the Central Square MBTA station. All food served is nutritious and vegan. The organization functions in a non-hierarchical manner and everyone share leadership responsibility. Food Not Bombs got its start in Cambridge in 1980, but has since spread to all corners of the globe. Currently, there are over 1,000 autonomous chapters of Food Not Bombs.


---
SATURDAY AND SUNDAY May, 22-23, 2010 at Alice Springs, Australia

Come to Alice Springs, Central Australia, and celebrate 30 amazing years of an inspiring international movement!
All welcome for a weekend of feasts, music, movies and solidarity in the desert.

Saturday 22nd - from 5pm
Free BBQ feast, acoustic music and movies
@ Arid Lands Environment Centre


Sunday 23rd - from 6pm
Regular FNB serving, featuring extra super spectacular free feast & live music
We need FOOD DONATIONS & people that are keen to contribute feast dishes at each event.
We are also looking for musicians / performers for either event. Please get in touch if you can help out tasquoll@gmail.com
please spread amongst your food not bombs and supporter networks.
---
The Melbourne Australia Food Not Bombs 30th Anniversary

On the 22nd of May from 2-8pm Melbourne food not bombs will celebrate 30 years of this radical and peaceful worldwide movement. We are planning to have a gathering/food not bombs catered picnic in the Edinburgh gardens in North Fitzroy, Melbourne. Everyone who has ever eaten, cooked or supports Food Not Bombs is welcome to come and celebrate! If you are interested in helping to cook or collect the food or set up for this event please
www.foodnotbombsmelbourne.org
---
Monterrey, Mexico from the May 14 - 16, 2010
We will be celebrating the 30 years of Food Not Bombs from the 14th to 16th of May 2010 in the city of Monterrey, Mexico.
Del 14 al 16 de Mayo de 2010 estaremos celebrando los 30 años de Comida No Bombas, en la Ciudad de Monterrey, México
Down Load a flyer for Monterrey, Mexico.
Down Load a flyer for Monterrey, Mexico.
Monterrey Food Not Bombs Gathering Proposals Consented to on May 15, 2010 ( first draft)



UNITED STATES FOOD NOT BOMBS GATHERING
The National Food Not Bombs Gathering in Omaha Nebraska August 7th to 9th, 2009




Greetings from Nashville! We are sending out an e-mail to invite all the National Food Not Bombs chapters to come to Omaha Nebraska August 7th to 9th for a get-together. Hang out with your fellow FNB comrades, discuss your experiences, trade ideas, and have a good time. Food will be provided, of course, and there's enough sleeping room for everyone. A tent and sleeping bag wouldn't be a bad idea though. As FNB is a collective of autonomous and independent groups, what happens at the gathering will be decided by consensus. If you have any issues you would like to be a part of the gathering, send an e-mail to this address.

omahafnbs@gmail.com< br>



TAOS FOOD NOT BOMBS GATHERING
Taos, New Mexico - May 23 to 25, 2009


The 29th anniversary of Food Not Bombs May 23 - 25, 2009 in Taos, New Mexico.
All Food Not Bombs volunteers are invited to join. Agenda items welcomed and encouraged. Help cook for the World Peace Week and discuss plans for the 30th anniversary celebrations of Food Not Bombs. Encourage participation in this summer's protests and campaigns. Share skills on cooking, train hopping, tree sitting, community gardening, squatting and any other ideas. Help organize a Really Really Free Market. Organize plans to address the global economic crisis. Meet other Food Not Bombs volunteers. The Taos chapter of Food Not Bombs is working with The Taos Peace House to organize World Peace Week. Stay for World Peace Week and participate this unique conference organized using the principles of consensus. Call 575-776-3880 or email nyna@foodnotbombs.net to get involved. The Food Not Bombs gathering is free. Scholarships for World Peace Week for Food Not Bombs cooks. The National Rainbow Gathering follows World Peace Week outside of Taos so don't miss our "Summer of Love." http://taossummeroflove.com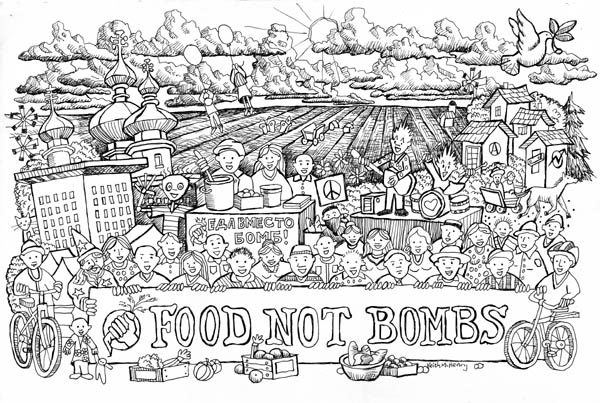 CALL OUT FOR INTERNATIONAL FOOD NOT BOMBS GATHERING 2007 IN UKRAINE




August 11 through 20, 2007
Transcarpathia, Ukraine


The International Food Not Bombs gathering will take place from the 11th to the 20th of August 2007 in the main region of transit and labor migration in Ukraine: Transcarpathia.
There is an explosion of Food Not Bombs activities in Eastern Europe. In Russia alone there are about 50 groups that are regularly doing actions.
We already started to form a program of workshops, discussions, practical trainings etc. But we prefer the program of the camp to be formed by the people who will come there. So if you've got something to share or contribute - please let us know now! It can be any topic you are interested in, not only the main topic of the camp.


Ukraine: Call out for 2007 No Border Camp and Food Not Bombs Gathering
www .infoshop.org/inews/article



Food Not Bombs is a form of protest against militarism and nuclear energy, poverty and homelessness. Hundreds of FNB groups in the world give out food for free to the people in need. It is a direct action against the capitalist system of greed and profit. FNB groups share food on the street, at protests and during actions and thus help to reclaim everyday life by building autonomous anti-authoritarian structures of self-sustainability in our communities.

FNB groups from Ukraine and Russia call for an International Food Not Bombs Gathering.

It will take place in Ukraine, not far from city Uzhgorod, from the 11th till the 20th of August 2007. This event will happen together with the International No Border Camp against the system of deportation and the policy of 'Fortress Europe' and 'Global Apartheid'.

We hope to bring together FNB divisions from all over the world. Today Eastern Europe experiences an explosion of Food Not Bombs activities. In Russia alone there are about 50 groups that regularly carry out actions. There dozens of groups in Ukraine, Belarus, Estonia, Poland, Czech Republic, etc.

There will be different kinds of workshops, seminars, discussions and trainings: from exchanges of recipes to discussions on political aspects of Food Nor Bombs. How can protest be more visibly expressed at actions (banners, leaflets, music etc.) How to deal with the growing situation of repression (examples of the USA, Belarus, Russia, Philippines etc.) How to combine FNB with other forms of protest? Also activists from different countries will exchange their experience of dealing with cops and other trouble-makers, communication with passers-by etc, creating a community with people whom they feed and so on.

As for the practical side of the Gathering, besides meeting each other and share our experience as FNB groups all over the world (we already know that some FNB activists for instance from the USA and Australia plan to come) we will take care of the food providing for the No Border camp. Also we will probably do some actions in the surrounding area. We will discuss and plan all the details when we meet. Please take into account that Ukraine has cancelled the visa regime for the citizens of the European Union, the USA and some other countries, so if you have a passport of some Western country you probably do not need any visa to join us. Feel free to spread this call-out through your contacts.

We would like to see this gathering based on 'real' democratic principles and call for you all to help us with this. If you think you can organize a workshop or a seminar on a subject you find important feel free to do so and let us now if you need any help. Because the general approach is of course DIY (Do It Yourself) we would appreciate it to bring as many necessary materials for your workshop yourself.

For the realization of this meeting (and the camp in general) we of course call for the support and inspiration from all of you!

For more information or questions contact: fnb-gathering@riseup.net

The drawing for the 1995 International Food Not Bombs Gathering in San Francsico
---

Food Not Bombs
P.O. Box 424, Arroyo Seco, NM 87514 USA
575-770-3377
1-800-884-1136
menu@foodnotbombs.net
www.foodnotbombs.net
| Start a Food Not Bombs | Main Menu | Food Not Bombs Contacts | Donate A Dollar For Peace |