SUPPORT THE RIGHT TO FEED THE HUNGRY AND WORK FOR PEACE
Respect the homeless, don't drive them out of sight

From: "Venice Santa Monica Food Not Bombs"

Date: Mon Jun 12, 2006 10:48:03 PM US/Pacific
To: "FNB network"
Subject: June 11, 2006 - Food Not Bombs Activist Arrested in Venice, CA

June 11, 2006 - Food Not Bombs Activist Arrested in Venice, CA

Venice/Santa Monica Food Not Bombs members were serving free food and giving away free literature on the Venice Beach Boardwalk Sunday morning when the LAPD singled out and arrested Food Not Bombs member Peggy Lee Kennedy, a third-generation Venice resident who was video taping from across the Boardwalk. This arrest follows a series of on-going harassments, tickets, police threats to arrest volunteers, and a police escorted health department visit and warning. Peggy was arrested for aledgedly violating a newly twice re-created vending law for the west side of the Venice Beach Boardwalk once famous for its Free Speech Zone activity.
The law, Los Angeles Municipal Code (LAMC) 42.15, is masquerading as an ordinance created to control vending and fights over space in what once was a more fluid area, where people could participate in first amendment activity - first come first serve. The older law was not perfect (a one-page municipal code prohibiting commercial vending), but a minor adjustment to restrict total space allowed per person could have solved many of the problems.
In stead, the latest of two successive bad Boardwalk vending laws is four-pages centered in controlling public space. Further to the actual City law, there are four or five more pages of governing rules created by the Los Angeles Department of Recreation and Parks. Some of the issues are:

Restrictions and harassment of the Free Speech activists refusing to participate in the unfair vendor/permit/lottery system.

Outlawing original political t-shirts offered for donations on the west side while sweatshop political t-shirts are being sold by stores on the east side.

A fifty-foot noise rule directed at performers on the west side of the Boardwalk and targeting one very out-spoken African-American performer in particular, but not targeting the loud businesses and bars on the east side.

And LAPD ticketing, harassing, and arresting those of us considered to be hurting precious property values, such as Food Not Bombs.

The law, very simply, is being used to further a gentrification agenda and rid Venice Beach of any remaining low-income people, people living an alternate [Venice Beach] lifestyle, and any unsightly homeless people. Bring in the cookie-cutter artists and get rid of the likes of us!
Venice/Santa Monica Food Not Bombs members were not vending or soliciting donations, not blocking a throughway, and not taking some permit vendor's assigned space won in the rotten lottery system. They were protesting war and poverty by giving away free literature and free food to hungry people in unoccupied public space, which is supposed to be set aside for First Amendment activity.
Further to this, the west of the Venice Beach Boardwalk was officially declared a Free Speech Zone (maybe they really meant on Mars!) in the motion accompanying the passing of the latest LAMC 42.15, and Venice/Santa Monica Food Not Bombs firmly believes that the intent of this act should be to protect First Amendment activity, not to create a "Police State Zone" law used to harass or arrest political activists, the homeless, or anyone else they do not like on the Venice Beach Boardwalk.
For these reasons and more, the Venice/Santa Monica Chapter of Food Not Bombs demands that the City of Los Angeles, including its paid politicians, its City Attorneys, and the Los Angeles Police Department:

Stop making or enforcing laws that violate our constitutional rights to assemble, give out free political literature, protest war and poverty, and give away free vegetarian food on Venice Boardwalk.

Stop harassing or arresting any person for violating ridiculous "vending laws"in a publicly declared Free Speech Zone on Venice Boardwalk, especially if they are not vending.

Stop working with developers and citizen groups, such as neighborhood watch, to actively remove homeless, low-income, or people with alternative life-styles from Venice.

Publicly apologize to the homeless, musicians, artists, activists, and low-income or working-class people in Venice for destroying their "Quality of Life."

The City of Los Angeles has enforced LAMC 42.15 on Venice Beach with an army of police using high-tech surveillance to crush the bohemian artist/activist Free Speech Zone community - paving the way for a NIMBY maximized "Profit Control"
Venice Santa Monica Food Not Bombs
venicesantamonicafnb@fastmail.fm


June 11, 2006 - Food Not Bombs Activist Arrested in Venice, CA
Boardwalk braces for peacemakers, Santa Monica Daily Press
Food Not Bombs Venice/SantaMonica/L.A./Valley/LongBeach
Appeals Court Upholds Events Ordinance
Court Upholds Most of Santa Monica's Public Use Permit Scheme
CLICK ON THE FOOD NOT BOMBS GROUP BELOW
AND LEARN MORE ABOUT EACH CASE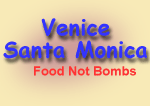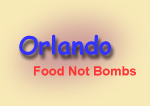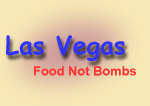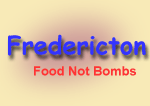 Food Not Bombs Activists Arrested In Philippines
FOOD NOT BOMBS ON THE SBS TV PROGRAM DATELINE AND AIRED ON LINK TV
---

Food Not Bombs
P.O. Box 424, Arroyo Seco, NM 87514 USA
505-776-3880
1-800-884-1136
menu@foodnotbombs.net
www.foodnotbombs.net
| Start a Food Not Bombs | Main Menu | Food Not Bombs Contacts | Donate A Dollar For Peace |